Call for Papers: VB2015 Prague
Posted by Virus Bulletin on Dec 19, 2014
VB seeks submissions for the 25th Virus Bulletin Conference.
Virus Bulletin is seeking submissions from those wishing to present papers at VB2015, which will take place 30 September to 2 October 2015 at the Clarion Congress Hotel in Prague, Czech Republic.
Originally started as an annual gathering of anti-virus experts, the VB conference has since evolved to become one of the world's leading security conferences, covering a broad range of topics in the realm of IT security. It is also one of the longest-running security conferences, and will celebrate its 25th edition next year.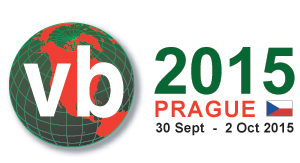 The conference will include a programme of 30-minute presentations running in two concurrent streams. Presentations vary from the very technical to those aimed at a broader security audience. Like last year, submissions are invited on topics that fall into any of the following areas:
Malware & botnets
Anti-malware tools & methods
Mobile devices
Spam & social networks
Hacking & vulnerabilities
Network security
A more detailed list of topics, suggestions and the full call for papers can be found here.
The deadline for submission of proposals is Friday 13 March 2015. Abstracts should be submitted via the online abstract submission system.
There are also still a number of sponsorship opportunities available for VB2015.

Posted on 19 December 2014 by Martijn Grooten
Latest posts:
The 68-byte EICAR test file plays as important a role today as it did 19 years ago. In this week's Throwback Thursday we look back at a VB99 conference paper in which Randy Abrams described how this 'miracle tool' worked and how it could be used.
A new piece of cryptocurrency-mining malware on macOS has been found to use the popular XMRig miner.
CDN provider Cloudflare reports an increase in DDoS attacks targeting layer 7 and focusing on exhausting server resources rather than sending large volumes of data. This fits in a wider trend.
Through fake social media accounts, users were tricked into installing an Android application that was actually a mobile version of the FinFisher spyware.
The Hide'n'Seek IoT botnet has received an update to make its infection persist on infected devices beyond a restart.