Windows XP Professional comparative review
Posted by Virus Bulletin on Jun 28, 2002
After re-testing, Panda Antivirus Platinum's on-access scanner product gains a VB 100% award.
Since the publication of the Windows XP comparative review in the June edition of Virus Bulletin (see VB June 2002, p.16), a number of the tests have continued in the interests of determining the cause of problems which arose during these tests. The following conclusions have been drawn.
Panda Antivirus Platinum
The review noted that Panda Antivirus Platinum's on-access scanner did not function when tested. Clearly this was an issue about which the developers were concerned, and the tests were repeated at that time, gaining the same result.
However, more recent tests, using the same hardware and software, have not demonstrated these problems. The lack of functionality noted in the review cannot, therefore, be taken to be indicative of a reproducible problem with the software.
Discussions with other developers have confirmed that the type of problem described is not uncommon with Windows XP. One theory put forward is that, at boot-up, XP does not always load all operating system components in the same order. With anti-virus programs being interwoven with the OS to an extreme degree, this might be a cause of such oddities.
NAI VirusScan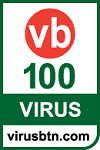 Also noted in the review was the fact that the sample of W32/Gibe.A was missed In the Wild by NAI VirusScan. This proved to be the result of an update method which, despite updating virus definitions, did not fully update the underlying engine. While this was the update method provided by the vendor, the results are not indicative of those which would have been obtained had SuperDAT files been used rather than DAT files.
The test results as published in the June issue are correct for the older engine tested, however, it should be noted that when subsequent tests were performed using SuperDAT files as an upgrade method, no files were missed by VirusScan In the Wild. Therefore, with the current 4.1.60 engine the product would qualify for the VB 100% award.

Posted on 28 June 2002 by Virus Bulletin
Latest posts:
In a new paper, researchers Aditya K Sood and Rohit Bansal provide details of a security vulnerability in the Nexus Android botnet C&C panel that was exploited in order to gather threat intelligence, and present a model of mobile AppInjects.
In a new paper, F5 researchers Aditya K Sood and Rohit Chaturvedi present a 360 analysis of Collector-stealer, a Russian-origin credential and information extractor.
VB has made all VB2021 localhost presentations available on the VB YouTube channel, so you can now watch - and share - any part of the conference freely and without registration.
VB2021 localhost - VB's second virtual conference - took place last week, but you can still watch all the presentations.
The call for last-minute papers for VB2021 localhost is now open. Submit before 20 August to have your paper considered for one of the slots reserved for 'hot' research!