VB2020 Dublin: 30 Sept - 2 Oct 2020
VB2020 will be held 30 September to 2 October 2020 at the Clayton Hotel, Burlington Road in Dublin, Ireland.
The Call for Papers for VB2020 is now open - deadline for submissions 15 March 2020.
Registration for VB2020 will open in April 2020.
For details of partnership opportunities contact Allison Sketchley by email or telephone +44 20 3920 6348.
For any queries about the VB Conference please contact us on conference@virusbulletin.com.
Venue
VB2020 will be held 30 September to 2 October at the Clayton Hotel Burlington Road in Dublin, Ireland. We suggest that you make your reservation at the Clayton Hotel as soon as possible.

Bookings can be made at the VB2020 delegate rate of EUR229 per night (inclusive of full breakfast and VAT) via this link: Book Hotel for VB2020.
Alternatively the booking code VBCF270920 can be used on the hotel's website.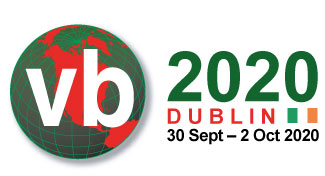 Dublin
With Ireland ranked by Forbes as one of the best countries in the world to do business Dublin's "Silicon Docks" hosts an impressive array of the world's top tech companies, making the city an excellent location for one of the most international conferences in the IT security field.
Dublin, of course, is also a great tourist destination – with its seamless blend of classic visitor sights, its long tradition of music, theatre and literature and the natural beauty of Dublin Bay and the Dublin Mountains that surround it, Dublin has often been referred to as one of Europe's friendliest cities: a lively capital city that's as intimate as a village and as friendly as your local Irish pub.