VB2005 call for papers
Posted by Virus Bulletin on Dec 2, 2004
Virus Bulletin is seeking submissions from those wishing to present at VB2005 in Dublin - so set aside some time between the season's festive parties to get writing!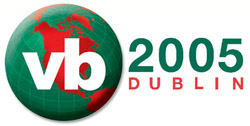 Virus Bulletin is seeking submissions from those wishing to present at VB2005, the Fifteenth Virus Bulletin International Conference, which will take place 5-7 October 2005 at the Burlington hotel, Dublin, Ireland.
The conference will include two full days of 40-minute presentations running in concurrent streams: Technical AV, Corporate AV and Spam (both technical and corporate).
Submissions are invited on all subjects relevant to the anti-virus and anti-spam arenas. VB welcomes the submission of papers that will provide delegates with ideas, advice and/or practical techniques, and encourages presentations that include practical demonstrations of techniques or new technologies.
Suggested topics
The following is a list of suggested topics elicited from attendees at VB2004. Please note that this list is not exhaustive, and papers on these and any other AV and spam-related subjects will be considered.
Technical AV
Honeypots
Longhorn
Threats and protection for mobile devices
Emulation, engine level sandboxing, unpacking and other static code analysis
Wireless security
Rootkits
ZA64/AMD64 viruses
Emulators/heuristics/PE unpacking on non-Windows platforms
Neural networks
HTML exploits
Email encoding
Viruses in new formats
Hardware anti-virus solutions
Tools of the trade (deobfuscation, IR, etc.)
Behavioural analysis and detection
Corporate AV
How to raise public awareness of malware/cybercrime
Use of personal firewalls with anti-virus protection
Corporate patch management
Phishing
Spyware and adware detection - legal issues
Corporate anti-virus/spyware/adware case studies
Zero day virus infections in a corporate environment
Malware and the law
Anti-virus performance and quality testing
Management of anti-virus infrastructures
Proactive detection mechanisms
IDS/IPS
False positive prevention
Vulnerability management
Government security policies
IT outsourcing and associated risks
Integration of protection technology on the desktop: anti-virus/firewall/IDS/spyware
Blackhat view of malware
Demonstrations of threats
IM threats
Anti-virus and anti-spam managed services
Spam
Corporate anti-spam case studies
Spam tricks
How spammers operate
Spam from a legal point of view
Anti-spam performance testing
Mobile spam
New anti-spam techniques
VB also invites you to send suggestions for any particular presenters you would like to hear from at VB2005. Please send speaker nominations, along with details of why you would like to hear from them (for example, are they an excellent presenter; is their field of research of particular interest; do they have very strong or controversial opinions?) to editor@virusbtn.com.
How to submit a paper
Abstracts of approximately 200 words must reach the Editor of Virus Bulletin no later than Thursday 10 March 2005. Submissions received after this date will not be considered. Abstracts should be sent as RTF or plain text files to editor@virusbtn.com. Please include full contact details with each submission.
Following the close of the call for papers all submissions will be anonymised before being reviewed by a selection committee; abstracts will be assessed for relevance, technical accuracy, novelty of the idea and so on. Authors will be notified of the status of their paper by email.
Those submitting papers should bear in mind that speakers must be available to present their session at the conference in Dublin (specifically on 6 and 7 October 2005), and that the alloted time for each presentation will be 40 minutes.
As part of your speaking obligation, you are required to provide a paper that will be included in the conference proceedings. Authors are advised in advance that, should their paper be selected for the conference programme, the deadline for submission of the completed paper will be Monday 6 June 2005 and that full papers should not exceed 8,000 words.

Posted on 02 December 2004 by Virus Bulletin
Latest posts:
VB is excited to reveal the details of an interesting and diverse programme for VB2019, the 29th Virus Bulletin International Conference, which takes place 2-4 October in London, UK.
Car hacking has become a hot subject in recent years, and at VB2018 in Montreal, Argus Cyber Security's Inbar Raz presented a paper that provides an introduction to the subject, looking at the complex problem, examples of car hacks, and the…
Static analysis and dynamic analysis each have their shortcomings as methods for analysing potentially malicious files. Today, we publish a VB2018 paper by Check Point researchers Yoni Moses and Yaniv Mordekhay, in which they describe a method that…
The call for papers for VB2019 closes on 17 March, and while we've already received many great submissions, we still want more!
Registration for VB2019, the 29th Virus Bulletin International Conference, is now open, with an early bird rate available until 1 July.