VB anti-spam testing: results revealed
Posted by Virus Bulletin on Mar 19, 2009
VB reveals results of trial test run: 1 platinum, 2 gold and 2 silver awards.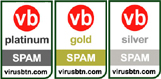 After months of preparation, discussion and hard work, VB is pleased to announce the results of the VB anti-spam testing trial, with one product achieving platinum-level certification, two achieving the gold level and two achieving silver level.
The first test was a trial run - with entry free of charge for vendors, but with the results anonymized for publication - the aim being to see how the test setup and methodology worked in practice.
Says Martijn Grooten, VB Anti-spam Test Director, 'If there is one thing that the trial has demonstrated, it is the need for such a dry run.' In particular, attempts to accommodate all 17 of the products submitted for the test were thwarted by a number of setup issues. However, Grooten declared the trial run a success: 'We feel that the delays and hiccups experienced during the trial run will be more than outweighed by the benefits when we start running the live tests and are fully versed in the requirements for our system and the potential pitfalls we are likely to encounter.'
The full set of test results for the trial run can be found here, with a detailed description of the test setup and methodology here.
The first 'live' anti-spam test (using named products) will be run in April, with the results published at the start of May. The product submission deadline for the first test will be 3 April 2009.
Any vendors interested in submitting anti-spam products for review are advised to contact Allison Sketchley, VB Sales Executive (+44 1235 544034; allison.sketchley@virusbtn.com) and/or Martijn Grooten, Anti-spam Test Director (+44 1235 540235; martijn.grooten@virusbtn.com).


Posted on 19 March 2009 by Virus Bulletin
Latest posts:
We see a lot of spam in the VBSpam test lab, and we also see how well such emails are being blocked by email security products. Worryingly, it is often the emails with a malicious attachment or a phishing link that are most likely to be missed.
Mydoom turns 15 this month, and is still being seen in email attachments. This Throwback Thursday we look back to March 2004, when Gabor Szappanos tracked the rise of W32/Mydoom.
Have you analysed a new online threat? Do you know a new way to defend against such threats? Are you tasked with securing systems and fending off attacks? The call for papers for VB2019 is now open and we want to hear from you!
Today, we publish a VB2018 paper by Google researcher Maddie Stone in which she looks at one of the most interesting anti-analysis native libraries in the Android ecosystem. We also release the recording of Maddie's presentation.
Today, we publish the VB2018 paper by Chronicle researcher Juan Andres Guerrero-Saade, who argues we should change the way we talk about APT actors.