VB anti-spam testing: results revealed
Posted by Virus Bulletin on Mar 19, 2009
VB reveals results of trial test run: 1 platinum, 2 gold and 2 silver awards.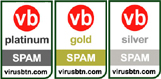 After months of preparation, discussion and hard work, VB is pleased to announce the results of the VB anti-spam testing trial, with one product achieving platinum-level certification, two achieving the gold level and two achieving silver level.
The first test was a trial run - with entry free of charge for vendors, but with the results anonymized for publication - the aim being to see how the test setup and methodology worked in practice.
Says Martijn Grooten, VB Anti-spam Test Director, 'If there is one thing that the trial has demonstrated, it is the need for such a dry run.' In particular, attempts to accommodate all 17 of the products submitted for the test were thwarted by a number of setup issues. However, Grooten declared the trial run a success: 'We feel that the delays and hiccups experienced during the trial run will be more than outweighed by the benefits when we start running the live tests and are fully versed in the requirements for our system and the potential pitfalls we are likely to encounter.'
The full set of test results for the trial run can be found here, with a detailed description of the test setup and methodology here.
The first 'live' anti-spam test (using named products) will be run in April, with the results published at the start of May. The product submission deadline for the first test will be 3 April 2009.
Any vendors interested in submitting anti-spam products for review are advised to contact Allison Sketchley, VB Sales Executive (+44 1235 544034; allison.sketchley@virusbtn.com) and/or Martijn Grooten, Anti-spam Test Director (+44 1235 540235; martijn.grooten@virusbtn.com).


Posted on 19 March 2009 by Virus Bulletin
Latest posts:
We are excited to announce the first 11 companies to partner with VB2019, whose support will help ensure a great event.
A former reporter by profession, Andrew Brandt's curiosity was piqued when he came across what appeared at first glance to be the website of a small-town newspaper based in Illinois, but under scrutiny, things didn't add up. At VB2018 he presented a…
In a new paper published today, independent researcher Nikolaos Tsapakis writes about the possibilities of malware using NTP as a covert communication channel and how to stop this.
VB is excited to reveal the details of an interesting and diverse programme for VB2019, the 29th Virus Bulletin International Conference, which takes place 2-4 October in London, UK.
Car hacking has become a hot subject in recent years, and at VB2018 in Montreal, Argus Cyber Security's Inbar Raz presented a paper that provides an introduction to the subject, looking at the complex problem, examples of car hacks, and the…