VB anti-spam testing: results revealed
Posted by Virus Bulletin on Mar 19, 2009
VB reveals results of trial test run: 1 platinum, 2 gold and 2 silver awards.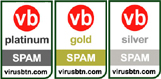 After months of preparation, discussion and hard work, VB is pleased to announce the results of the VB anti-spam testing trial, with one product achieving platinum-level certification, two achieving the gold level and two achieving silver level.
The first test was a trial run - with entry free of charge for vendors, but with the results anonymized for publication - the aim being to see how the test setup and methodology worked in practice.
Says Martijn Grooten, VB Anti-spam Test Director, 'If there is one thing that the trial has demonstrated, it is the need for such a dry run.' In particular, attempts to accommodate all 17 of the products submitted for the test were thwarted by a number of setup issues. However, Grooten declared the trial run a success: 'We feel that the delays and hiccups experienced during the trial run will be more than outweighed by the benefits when we start running the live tests and are fully versed in the requirements for our system and the potential pitfalls we are likely to encounter.'
The full set of test results for the trial run can be found here, with a detailed description of the test setup and methodology here.
The first 'live' anti-spam test (using named products) will be run in April, with the results published at the start of May. The product submission deadline for the first test will be 3 April 2009.
Any vendors interested in submitting anti-spam products for review are advised to contact Allison Sketchley, VB Sales Executive (+44 1235 544034; allison.sketchley@virusbtn.com) and/or Martijn Grooten, Anti-spam Test Director (+44 1235 540235; martijn.grooten@virusbtn.com).


Posted on 19 March 2009 by Virus Bulletin
Latest posts:
Static analysis and dynamic analysis each have their shortcomings as methods for analysing potentially malicious files. Today, we publish a VB2018 paper by Check Point researchers Yoni Moses and Yaniv Mordekhay, in which they describe a method that…
The call for papers for VB2019 closes on 17 March, and while we've already received many great submissions, we still want more!
Registration for VB2019, the 29th Virus Bulletin International Conference, is now open, with an early bird rate available until 1 July.
When we are calling for papers for the Virus Bulletin conference as we are doing now, we really mean a written paper. But don't worry if you've never written a paper - we can help!
Amit Serper first analysed the OSX/Pirrit adware in 2016, highlighting some of its malware-like techniques, and soon afterwards started receiving legal threats from the company behind it. At VB2018 Amit gave a presentation in which he discussed both…