Rogue Twitter application steals passwords
Posted by Virus Bulletin on Jul 19, 2011
'See who stalks my Twitter' used to lure users.
A malicious Twitter application is currently spreading on the microblogging network, luring users to hand over their passwords, supposedly so they can see who is 'stalking' them on the site.
At first glance, the page where the application (dubbed 'StalkTrak') asks to be authorized may look legitimate. One giveaway, however, is that it asks users to input their Twitter login credentials. Twitter applications do not have - or need - access to these; rather, they use a technology called 'OAuth' which uses the user's current Twitter session to authenticate them.
The biggest giveaway, however, is the domain used for authentication: itiwitter dot com. The domain was registered by a Shanghai-based company four days ago and, obviously, has no association with Twitter.
Users should be wary of malicious applications for Twitter and other social networking sites - it is advisable to always double-check the URL and keep in mind that these applications do not need passwords. Users who do not exercise such caution may find themselves among the growing list of people whose accounts are hacked and used to spread spam and scams.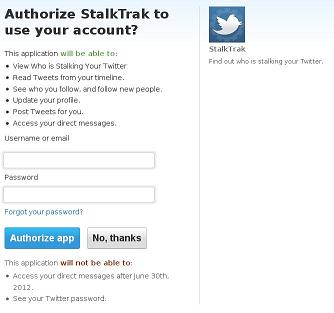 Posted on 19 July 2011 by
Virus Bulletin
Latest posts:
VB has made all VB2021 localhost presentations available on the VB YouTube channel, so you can now watch - and share - any part of the conference freely and without registration.
VB2021 localhost - VB's second virtual conference - took place last week, but you can still watch all the presentations.
The call for last-minute papers for VB2021 localhost is now open. Submit before 20 August to have your paper considered for one of the slots reserved for 'hot' research!
Kurt Natvig explains how he recompiled malicious VBA macro code to valid harmless Python 3.x code.
In a new article, Aditya K Sood looks at the command-and-control (C&C) design of the AZORult malware, discussing his team's findings related to the C&C design and some security issues they identified.