PayPal spam leads to exploit kit
Posted by Virus Bulletin on May 2, 2012
Clicking on links leads to Blackhole rather than phishing site.
Fake PayPal receipts were being spammed out this morning, with links leading to a version of the Blackhole exploit kit.
The emails look like typical PayPal confirmation emails and suggest that funds have been sent from the user's account. The supposed recipient of these funds varies between the emails, but they all share the surname 'Peterson'. Of course, the links in the email don't send the user to PayPal's website, but instead link to a landing page on a compromised website.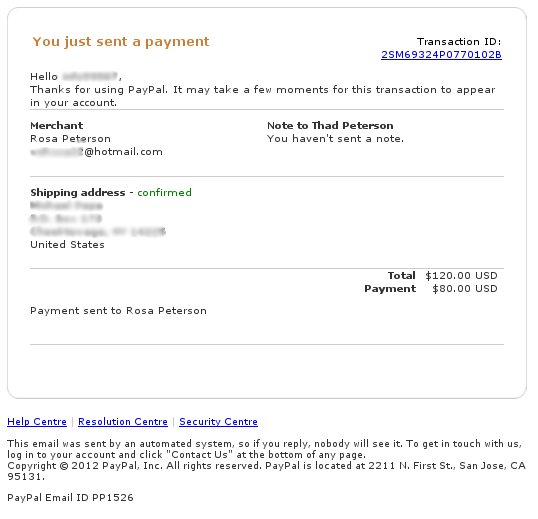 This landing page is an otherwise empty HTML page, where three pieces of JavaScript code are being loaded from three external websites. These three sites have been compromised as well, and each script contains the same piece of code that merely redirects the browser to another site. The use of three pieces of the same code means that the redirect will continue to work even if one or two of the sites are taken down or cleaned up.

The website the user is sent to appears to be run by the cybercriminals behind the attack themselves; it connects directly to the IP address and does not use a domain name. The page contains a piece of obfuscated JavaScript. De-obfuscating this code showed that this is, in fact, the infamous Blackhole exploit kit, which attempts to install malware on a user's machine via a number of known vulnerabilities in browser add-ons such as Flash and Java, as well as in the Windows operating system itself.
It may seem surprising that the criminals chose to send the user to an exploit kit, rather than to a phishing site. However, as many users are aware of phishing scams, even if they had clicked the link in the email, the domain name would be an obvious sign that something was not right. On the other hand, exploit kits silently infect the unprotected user which, via pay-per-install affiliate schemes, could generate money for those sending the spam.
Virus Bulletin has alerted the ISP that hosts the website running the exploit kit. At time of writing, the site is no longer accessible.
A technical paper on the Blackhole exploit kit, written by Sophos's Fraser Howard, can be found here.
iSIGHT's Ken Dunham and Shane Hartman will present a paper 'Blackhole exploit kit dominates the market' at VB2012 in Dallas (26-28 September). Registration for VB2012 is now open.

Posted on 2 May 2012 by Virus Bulletin
Latest posts:
A new paper by CYREN researcher Lordian Mosuela takes a close look at Gatak, or Stegoloader, a piece of malware that was discovered last year and that is controlled via malicious coded embedded in a PNG image, a technique known as steganography.
The current ransomware plague is one of the worst threats the Internet has seen and it is unlikely to go away any time soon. But telling people to never pay the ransom is unhelpful advice.
In his VB2015 paper, Martin Korman presented his 'VolatilyBot' tool, which extracts malicious code from packed binaries, leveraging the functionality of the Volatility Framework.
We have announced 37 papers (and four reserve papers) that will be presented at VB2016 in Denver, Colorado, USA in October. Registration for the conference has opened; make sure you register before 1 July to benefit from a 10% early bird discount.
The people behind the MalwareHunterTeam have released a tool that helps victims of ransomware identify which of more than 50 families has infected their system, something which could help them find a tool to decrypt their files.