US lifts ban on anti-virus software for Iran
Posted by Virus Bulletin on May 31, 2013
Eased restrictions welcomed by security experts.
The United States has announced it has eased export restrictions to Iran, and now allows for the export of mobile phones and software, including anti-virus software.
The US originally imposed sanctions against Iran following the Iranian Revolution of 1979 and has tightened them several times since, among other things because of the country's alleged nuclear program. While the effect of economic sanctions is debated among experts, the fact that anti-virus software could not be exported has regularly received criticism from security and privacy experts.
The Iranian government is known to have regularly intercepted its citizens' online communications (for example by using SSL certificates generated by hacking into the DigiNotar certificate authority) and it is well possible that spyware is also used. However, it wouldn't be the only government to do so: this week, the US entertainment industry released a report in which it argued for the use of ransomware against piracy. But at least US citizens would be able to purchase security software that would, hopefully, allow the detection of such programs.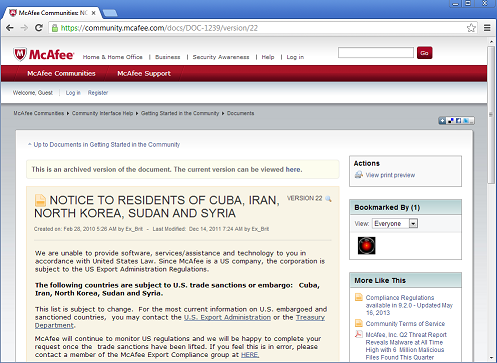 If citizens in a foreign country are not allowed to purchase security software, they would be forced either to do without such software, or to use whatever their own government provides them with; hardly a reassuring thought. A similar argument can be made about the use of communication technology, such as mobile phones; hence the ban on the export of these has also been lifted.
There is one notable exception to the eased restrictions: software and mobile phones cannot be sold if the seller has reason to believe they are going to be used by the Iranian government. The Iranian government will thus have to find its own solutions against new Stuxnet variants.
More at the BBC here with a PDF of the updated regulations by the Office of Foreign Assets Control here.

Posted on 31 May 2013 by Martijn Grooten
Latest posts:
The Lazarus Group, generally linked to the North Korean government, is one of the most notorious threat groups seen in recent years. At VB2018 ESET researchers Peter Kálnai and Michal Poslušný presented a paper looking at the group's various…
Virus Bulletin is proud to sponsor this year's BSides London conference, which will take place next week, and we have a number of tickets to give away.
We are excited to announce the first 11 companies to partner with VB2019, whose support will help ensure a great event.
A former reporter by profession, Andrew Brandt's curiosity was piqued when he came across what appeared at first glance to be the website of a small-town newspaper based in Illinois, but under scrutiny, things didn't add up. At VB2018 he presented a…
In a new paper published today, independent researcher Nikolaos Tsapakis writes about the possibilities of malware using NTP as a covert communication channel and how to stop this.