US lifts ban on anti-virus software for Iran
Posted by Virus Bulletin on May 31, 2013
Eased restrictions welcomed by security experts.
The United States has announced it has eased export restrictions to Iran, and now allows for the export of mobile phones and software, including anti-virus software.
The US originally imposed sanctions against Iran following the Iranian Revolution of 1979 and has tightened them several times since, among other things because of the country's alleged nuclear program. While the effect of economic sanctions is debated among experts, the fact that anti-virus software could not be exported has regularly received criticism from security and privacy experts.
The Iranian government is known to have regularly intercepted its citizens' online communications (for example by using SSL certificates generated by hacking into the DigiNotar certificate authority) and it is well possible that spyware is also used. However, it wouldn't be the only government to do so: this week, the US entertainment industry released a report in which it argued for the use of ransomware against piracy. But at least US citizens would be able to purchase security software that would, hopefully, allow the detection of such programs.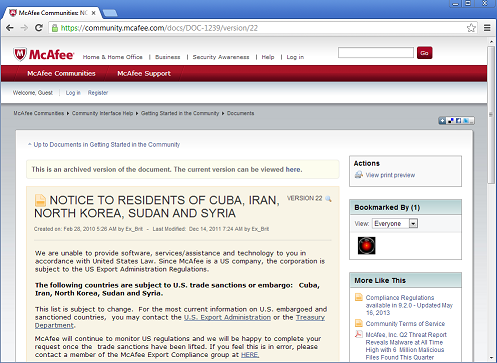 If citizens in a foreign country are not allowed to purchase security software, they would be forced either to do without such software, or to use whatever their own government provides them with; hardly a reassuring thought. A similar argument can be made about the use of communication technology, such as mobile phones; hence the ban on the export of these has also been lifted.
There is one notable exception to the eased restrictions: software and mobile phones cannot be sold if the seller has reason to believe they are going to be used by the Iranian government. The Iranian government will thus have to find its own solutions against new Stuxnet variants.
More at the BBC here with a PDF of the updated regulations by the Office of Foreign Assets Control here.

Posted on 31 May 2013 by Martijn Grooten
Latest posts:
Constraint programming is a lesser-known technique that is becoming increasingly popular among malware analysts. In a paper presented at VB2018 Thaís Moreira Hamasaki presented an overview of the technique and explained how it can be applied to the…
With a little less than a month before the deadline of the call for papers for VB2019, Virus Bulletin encourages submissions from experienced speakers and newcomers alike.
At VB2018 in Montreal, Ixia researcher Stefan Tanase presented a thought-provoking paper on the current state of the Internet and the worrying tendency towards raising borders and restricting the flow of information. Today we publish both his paper…
The set-up of the VBSpam test lab gives us a unique insight into the kinds of emails that are more likely to bypass email filters. This week we look at the malspam that was missed: banking and email phishing, Emotet and Bushaloader.
The cybersecurity skills gap has been described as one of the biggest challenges facing IT leaders today. At VB2018 in Montreal, ESET's Lysa Myers outlined some of the things the industry can do to help address the problem. Today we publish Lysa's…