'Cyberdanger' informs general audience of IT security
Posted by Virus Bulletin on Feb 24, 2014
Eddy Willems' book is a pleasant read on an important subject.
Security expert Eddy Willems has written a book. The friendly Belgian, currently G Data's Security Evangelist, is a veteran of the security industry - and usually, that mere fact would make many a reader of this blog run to the nearest book shop to buy themselves a copy.
Except, the book's content is heavily obfuscated: Eddy has written it in his native Dutch. And while a German translation is on its way, and other translations are in the pipeline, it was the Dutch version that I read.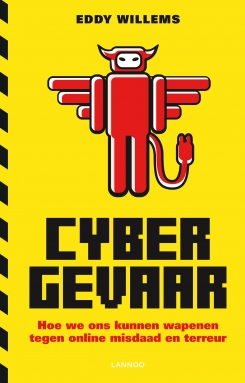 The book is called Cybergevaar - Cyberdanger in English - and with its bright yellow cover, it's hard to miss. It is published by Lannoo in Belgium.
I did not learn many new things from this book. This may sound like criticism, but it isn't: the book is targeted at a general audience, rather than those who work in IT security on a daily basis.
Less than a decade ago, I was a member of that general audience, and when I was taking my first steps into the world of IT security, I would have greatly benefitted from reading a book like this. It includes a concise history of the malware threat, and gives an excellent overview of the various challenges we are facing today.
Eddy has a pleasant writing style and the book is filled with personal anecdotes - bringing life to what, to many, may seem like a dry subject. Throughout the book, there are also a number of short guest pieces written by fellow experts including VB regulars Bob Burls, Richard Ford and Peter Kruse.
But security isn't just a matter of knowing what's happening. Therefore, the book includes a number of practical tips - both for home users and for those tasked with securing organisations. There is nothing new here for the experienced user - though it will certainly be very useful for most less experienced readers.
It was nice to see Virus Bulletin feature prominently throughout the book, while other organisations including EICAR and AMTSO also get regular mentions. I do think one is right to wonder whether information on such organisations is relevant for the general audience. But for journalists and policy makers, who regularly have to write about or make decisions on issues of cybersecurity, these are probably as relevant as the rest of the book.
The book finishes with a short fictional story set 20 years into the future. Whether Eddy's picture of the world in 2034 is accurate, only time will tell. But with a number of prominent industry figures playing a major role in the story, it is something many an expert will want to read.
My non-Dutch-speaking colleagues at VB eagerly await the English translation.

Posted on 24 February 2014 by Martijn Grooten