Researchers crack ransomware encryption
Posted by Virus Bulletin on Feb 21, 2014
'Bitcrypt' authors confused their bytes and digits.
Two French researchers have found a serious vulnerability in a new piece of ransomware that has allowed them to crack the keys used by the malware to encrypt the victim's files.
CryptoLocker has become known as the unfortunate crypto success story of 2013. While stories about broken cryptography implementations made the headlines throughout the second half of the year, no one has yet been able to find a serious weakness in this piece of ransomware. Victims who find their files encrypted by CryptoLocker and who do not have a backup of the files are forced either to pay the ransom, or to consider their files lost forever.
Unsurprisingly, CryptoLocker's success has been noted by other criminals, and other pieces of ransomware are trying to use the same method to extort money from their victims. Thankfully, not all of them have the cryptography skills of the CryptoLocker developers.
Fabien Perigaud and Cedric Pernet, two researchers working for Airbus in France, found a friend's computer infected with 'Bitcrypt', a new kind of ransomware. While the ransomware had encrypted all the important files on the computer, a message pointed to a website where a 'recovery application' could be purchased for 0.4BTC.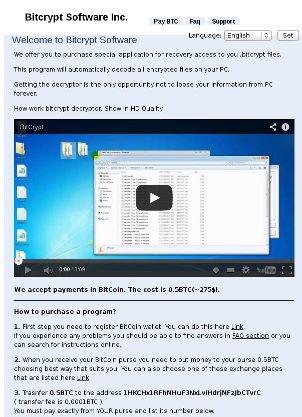 When we accessed the page through its .onion domain today, the price had increased to 0.5BTC
When they looked at the malware sample, the researchers found it was using 1024-bit RSA encryption. While this kind of encryption might be crackable by NSA-like agencies, it is beyond the capabilities of ordinary researchers. In any case, the cost of cracking the key would far exceed the ransom demanded by the malware.
However, it turns out that the malware authors did not pay attention during cryptography lessons. While they meant to use a key of 128 bytes (or 1024 bits), they actually used a key of 128 decimal digits. This is equivalent to around 426 bits. Keys of this length were first cracked 20 years ago and these days can be cracked by a standard PC within a day.
As a result, the researchers were able to restore all the encrypted files. More details can be found at their Cassidian CyberSecurity blog here, where they've also made a Python script available that can be used by others to crack Bitcrypt keys.
Of course, authors of other kinds of ransomware are likely to have a better understanding of cryptography. Making sure ransomware has little chance of making it to your computer, and keeping offline backups in case it does, remains as important as ever.

Posted on 21 February 2014 by Martijn Grooten
Latest posts:
It is likely that, by now, everyone in computer science has at least heard of the Spectre attack, and many excellent explanations of the attack already exist. But what is the likelihood of finding Spectre being exploited on Android smartphones?
We are excited to announce several more companies that have partnered with VB2018.
A new malware campaign that uses two stolen code-signing certificates shows that such certificates continue to be popular among malware authors. But there is a positive side to malware authors' use of stolen certificates.
Though the location will remain under wraps for a few more months, we are pleased to announce the dates for VB2019, the 29th Virus Bulletin International Conference.
The operators of the Necurs botnet, best known for being one of the most prolific spam botnets of the past few years, have pushed out updates to its client, which provide some important lessons about why malware infections matter.