Call for last-minute papers for VB2014 announced
Posted by Virus Bulletin on Jul 21, 2014
Seven speaking slots waiting to be filled with presentations on 'hot' security topics.
Earlier this year, we announced the programme for VB2014: three days filled with excellent papers on a wide range of security topics.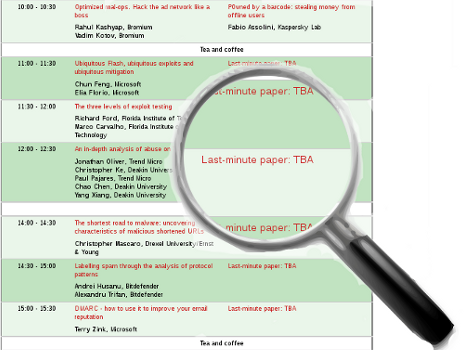 Well, not entirely. As usual, one small part of the programme has been set aside for last-minute papers: presentations dealing with up-to-the-minute specialist topics, with the emphasis on current and emerging ('hot') topics.
Of course, many presentations already on the programme remain or have become 'hot'. Two presentations on malware targeting *nix servers tie in seamlessly with the 'Mayhem' analysis we published last week, while malware targeting 'boletos' - banking documents issued by banks and businesses in Brazil - made the news long after a presentation on the subject had been added to the conference programme.
However, if you have researched a threat, a vulnerability or a defence method that emerged only recently, this is your chance to let the world know about it - by presenting it at one of the most well established security conferences in the world.
The deadline for submissions is 28 August 2014, after which the selection committee will go through the submissions and make the final selection.
Please submit your proposals using our online abstract submission form. And of course, don't hesitate to contact editor@virusbtn.com if you have any questions.

Posted on 21 July 2014 by Martijn Grooten
Latest posts:
The 68-byte EICAR test file plays as important a role today as it did 19 years ago. In this week's Throwback Thursday we look back at a VB99 conference paper in which Randy Abrams described how this 'miracle tool' worked and how it could be used.
A new piece of cryptocurrency-mining malware on macOS has been found to use the popular XMRig miner.
CDN provider Cloudflare reports an increase in DDoS attacks targeting layer 7 and focusing on exhausting server resources rather than sending large volumes of data. This fits in a wider trend.
Through fake social media accounts, users were tricked into installing an Android application that was actually a mobile version of the FinFisher spyware.
The Hide'n'Seek IoT botnet has received an update to make its infection persist on infected devices beyond a restart.