Report: VB100 comparative review on Windows 7
Posted by Virus Bulletin on Jul 29, 2014
29 out of 35 tested products earn VB100 award.
The various changes at Virus Bulletin mean that things are busier than ever in our office. Still, behind the scenes we continue to perform what remains one of our core activities: the testing of security products.
John Hawes and his team tested no fewer than 35 anti-malware solutions on the popular Windows 7 platform. 29 of these achieved a VB100 award, showing that they were capable of detecting all malware from the WildList, without erreonously detecting files from a 'clean set' of legitimate files.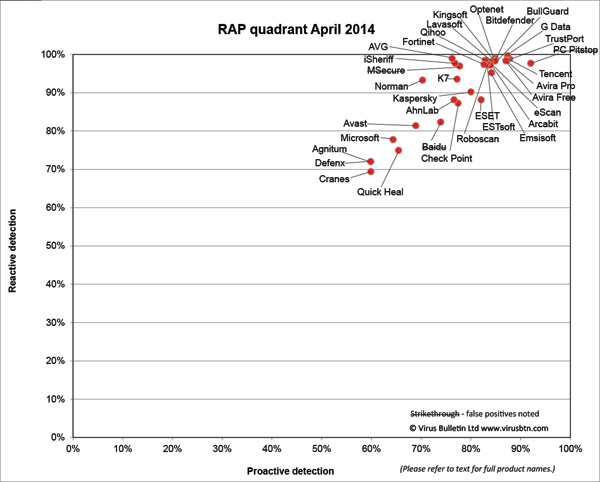 Remember that, as of this month, all content published through Virus Bulletin is available free of charge, and the test reviews are no exception. We encourage readers to make use of this and read beyond the passes and the fails: the report includes many details on products' performance and stability that will help home users and system administrators alike in their choice of a good security product.
The VB100 review can be viewed here in HTML format, or downloaded here as a PDF (no registration required).
If you are interested in submitting your product for future tests, or want to make use of our consulting opportunities, please don't hesitate to contact John Hawes at john.hawes@virusbtn.com.

Posted on 29 July 2014 by Martijn Grooten
Latest posts:
Last week, VB Editor Martijn Grooten travelled to the Kenyan capital Nairobi to speak at the 6th edition of the AfricaHackon event.
Still in-development kit thus far only targets Flash Player vulnerabilities
The call for last-minute papers for VB2019 is now open. Submit before 1 September to have your abstract considered for one of the nine slots reserved for 'hot' research.
Virus Bulletin is seeking nominations for the sixth annual Péter Szőr Award.
New additions to the VB2019 conference programme include a closing keynote address from Thinkst duo Haroon Meer and Adrian Sanabria and a talk on attacks against payment systems.