VB2014 paper: Exposing Android white collar criminals
Posted by Virus Bulletin on Oct 22, 2014
Luis Corrons dives into the world of shady Android apps.
Over the next few months, we will be sharing VB2014 conference papers as well as video recordings of the presentations. Today, we have added 'Exposing Android white collar criminals' by Panda Security researcher Luis Corrons.
Android is by far the most popular operating system when it comes to mobile malware, and it isn't surprising that this year's conference programme included a number of talks on the tricks used by Android malware to infect devices.
But not all malicious apps need to use such tricks: Luis Corrons discussed various apps that use social engineering to subscribe the victim to premium rate SMS services. In many cases, the methods used are verging on legal - for instance, an app that requires the user to accept its terms and conditions, which openly state its purpose, but in a very small font.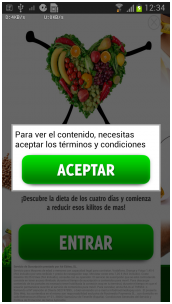 "To view the contents, you need to accept the terms and conditions." Note the extremely small font used to display those terms and conditions.
Other apps stray from the line of legality a little more, for instance by presenting a web page designed to trick users into believing it is the official Google Play store, or by claiming to be the official app of a popular brand.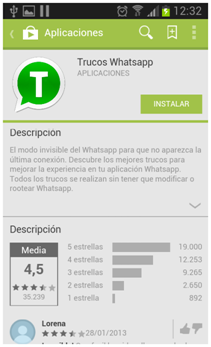 App pretending to be Google Play. Note how some of the numbers don't add up.
Despite the fact that it wasn't hard to find out who was behind these pieces malware, Luis said that getting those people prosecuted wasn't easy - if possible at all.
You can read Luis's paper here in HTML-format, or download it here as a PDF (no registration or subscription required).

Posted on 22 October 2014 by Martijn Grooten
Latest posts:
Since their return four years ago, Office macros have been one of the most common ways to spread malware. Today, we publish a research paper which looks in detail at a campaign in which VBA macros are used to execute PowerShell code, which in turn…
Within a few years, Android malware has grown from a relatively small threat to a huge problem involving more than three million new malware samples a year. Axelle Apvrille, one of the world's leading Android malware researchers, will deliver a…
Compromised websites are being used to serve fake Flash Player uploads that come with a malicious payload.
Next week, VB Editor Martijn Grooten will be at the RSA Conference in San Francisco.
VB is excited to reveal the details of an interesting and diverse programme for VB2018, the 28th Virus Bulletin International Conference, which takes place 3-5 October in Montreal, Canada.