Out-of-band patch released for all Windows versions
Posted by Virus Bulletin on Nov 19, 2014
Kerberos bug means one set of credentials suffices to rule them all.
If you are a Windows systems administrator, the content of this blog post will (hopefully) not come as a surprise. If it does, you should finish reading it quickly and make some time to apply the out-of-band patch MS14-068 to all Windows systems under your control as soon as possible.
The patch fixes CVE-2014-6324, a checksum vulnerability in the Kerberos authentication protocol. It means that anyone with a user account on a local domain could elevate privileges to those of the domain administrator account.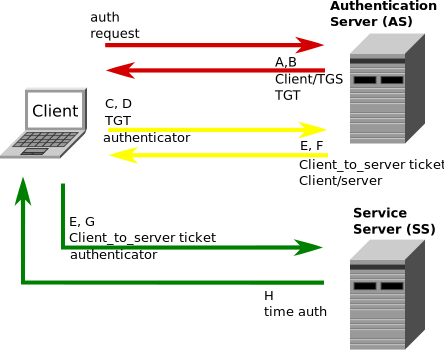 The Kerberos protocol. Source: Wikimedia Commons.
The vulnerability has been rated 'critical', the highest possible severity rating, which is uncommon for privilege escalation vulnerabilities. However, the rating appears to be justified, as the vulnerability can be exploited remotely. It means that an attacker targeting an organization's network only needs to get hold of one valid set of credentials to take full control of the domain.
Indeed, Microsoft reports that the bug has already been exploited in targeted attacks in the wild.
In a blog post giving more details on the vulnerability, Microsoft engineer Joe Bialek advises that domain controllers running Windows Server 2008R2 and below should be given the highest priority, but says that all Windows versions should be fixed as soon as possible.
Should a domain already have been compromised, the only way for this to be remediated is a complete rebuild of the domain.

Posted on 19 November 2014 by Martijn Grooten
Latest posts:
Today, we publish the VB2018 paper by Symantec researchers Aishwarya Lonkar and Siddhesh Chandrayan on the security risks that come with WebAssembly.
In 2019, the Virus Bulletin conference is set to return home, with VB2019 taking place in London, UK.
In a guest blog post, Kaspersky Lab's Anton Shingarev considers the case for increasing transparency in cybersecurity.
Workshops make their VB Conference debut during VB2018, giving delegates the opportunity to learn the basics of kernel-level malware analysis, Android reverse-engineering and artificial intelligence.
Today we publish a short article by Ronen Slavin and Michael Maltsev, researchers at Reason Software Company, who dive into the video capturing internals on Windows, and explain how this can be used by a malicious actor to steal images recorded by a…