VB2014 paper: Smart home appliance security and malware
Posted by Virus Bulletin on Dec 15, 2014
Jeongwook Oh demonstrates how to hack a Samsung smart TV.
Over the next few months, we will be sharing VB2014 conference papers as well as video recordings of the presentations. Today, we have added 'Smart home appliance security and malware', by HP researcher Jeongwook Oh.
The (in)security of the Internet of Things (IoT) is a major concern among security professionals, and one is right to wonder whether it is a good idea for refrigerators, thermostats and light bulbs to be connected to the Internet.
But with TVs things are different. Services such as YouTube, Netflix and BBC iPlayer have blurred the distinction between TVs and computers, and it seems natural for many modern TVs (called smart TVs) to be connected to a LAN and thus to the Internet. However, as HP researcher Jeongwook Oh showed in his VB2014 paper, the security of these devices is not as strong as it should be.
In particular, Jeongwook looked at the security of the 55UF6350, a TV from Samsung's F-Series range that he had recently purchased. As is the case for many IoT devices, the TV runs a Linux operating system and Jeongwook had little trouble obtaining root on the TV, installing backdoors and uploading binaries, all of which could be used for further attacks.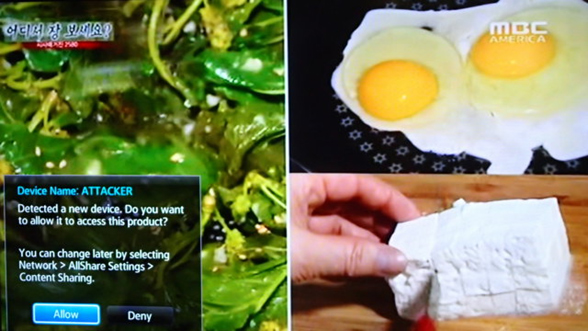 In order to illustrate just how easy this was, he performed a live demonstration at the conference, bringing his own TV on stage.
You can read the paper here in HTML-format, or download it here as a PDF (no registration or subscription required). You can download the presentation slides here. We have also uploaded the presentation to our YouTube channel.
Posted on 15 December 2014 by
Martijn Grooten
Latest posts:
If you are considering submitting a proposal for a talk to VB2018 and you're not familiar with the event, you may find it useful to know what kind of people attend the conference.
An unattributed malware attack has disrupted some computer systems of the 2018 Winter Olympics. In 1994, a computer virus also targeted the Winter Olympics.
Thousands of websites, including many sites of government organisations in the UK, the US and Sweden, were recently found to have been serving a cryptocurrency miner. More interesting than the incident itself, though, are the lessons that can be…
An article by security researcher Collin Anderson reopens the debate on whether publishing threat analyses is always in the public interest.
Users of the popular WordPress content management system are urged to manually update their installation to version 4.9.4, as a bug in the previous version broke the ability to automatically install updates.