Alleged Flash Player zero-day used in Angler exploit kit
Posted by Virus Bulletin on Jan 22, 2015
Adobe 'investigating reports'.
Vulnerable browser plug-ins are one of the most important infection vectors, which is why it is so important to keep them up to date. If you don't, visiting a website infected with an exploit kit (a toolkit that attempts to exploit a number of vulnerabilities at once) could result in malware being dropped on the computer through a drive-by download.
The good news, however, is that keeping plug-ins fully patched usually suffices for the average Internet user: developers of exploit kits rarely 'burn' zero-days when targeting the general public.
But rarely isn't the same as never. Pseudonymous security researcher Kafeine, who has long been keeping track of the latest developments in the world of exploit kits, reports that some instances of the 'Angler' exploit kit are using a hitherto unknown vulnerability in Adobe's widely used Flash Player.
Though few details are known at the moment, other security researchers have confirmed the finding, leading to speculation that a premium version of Angler might include the zero-day. Speaking to Forbes, Adobe confirmed that it is investigating reports of the vulnerability.
The attack appears to target users of Internet Explorer on Windows XP through to Windows 8. Kafeine says the "bullet isn't fired" on Chrome or on fully patched installations of Windows 8.1.
Many security firms were quick to point out that they would have blocked the exploit, either through heuristic detection, or because the Angler exploit kit was detected. Still, it might not be a bad idea to play safe and to enable click-to-play for Flash on websites.
Interestingly, albeit somewhat confusingly, users of the latest Flash Player version 16.0.0.257 are told by Adobe to upgrade to version 16.0.0.287. This has been shipped with the latest version of Google Chrome, released yesterday, but is not yet available for download on Adobe's website. It is not clear whether the vulnerability is addressed in this update.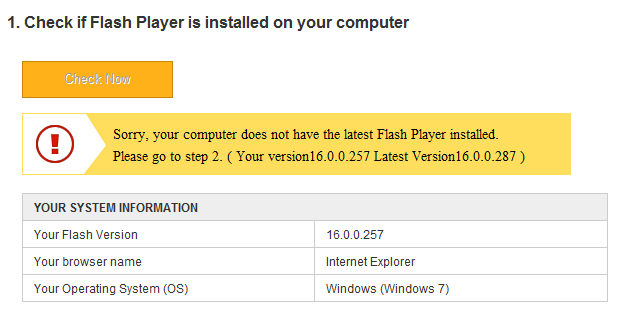 Posted on 22 January 2015 by
Martijn Grooten
Latest posts:
New additions to the VB2019 conference programme include a closing keynote address from Thinkst duo Haroon Meer and Adrian Sanabria and a talk on attacks against payment systems.
Virus Bulletin is excited to announce that, thanks to generous sponsorship from Google Android, we are able to offer 20 free tickets to students who want to attend VB2019.
The Lazarus Group, generally linked to the North Korean government, is one of the most notorious threat groups seen in recent years. At VB2018 ESET researchers Peter Kálnai and Michal Poslušný presented a paper looking at the group's various…
Virus Bulletin is proud to sponsor this year's BSides London conference, which will take place next week, and we have a number of tickets to give away.
We are excited to announce the first 11 companies to partner with VB2019, whose support will help ensure a great event.