Praise for the unsung heroes of email
Posted by Virus Bulletin on Feb 4, 2015
Many decent performances in VB's latest comparative spam filter test.
A decade ago, there were optimists who thought that the spam problem would soon be eradicated. At the same time, pessimists thought that spam would quickly become such a big problem that we'd all stop using email.
The bad news is that the optimists were wrong: the vast majority of email traffic sent these days is spam. The good news is that the pessimists were wrong too: spam is so well mitigated that billions of people still use email every day.
Spam filters — or email security solutions, as they are often called these days — aren't solely responsible for this mitigation, but they play a very important part, making them the unsung heroes of the email infrastructure. When they do their job well, spam filters keep inboxes tidy and prevent users from being tempted to open dodgy links or malicious attachments.
As the spam landscape evolves, so do spam filters. Or so one would hope. Since the spring of 2009, Virus Bulletin has been publishing bi-monthly reports on the performance of spam filters.
The most recent of these reports was published earlier this week. For most participating products there was good news: they bounced back from a relatively weak performance in the November 2014 test.
Thirteen products achieved the widely respected VBSpam award for their performance, and six of them — ESET, GFI, Kaspersky, Libra Esva, OnlyMyEmail and ZEROSPAM — even achieved a VBSpam+ award for blocking more than 99.5% of spam, while blocking no legitimate emails and very few newsletters.
For some products, however, the results were disappointing and their developers will be working hard to show that their poor performance was a one-off incident.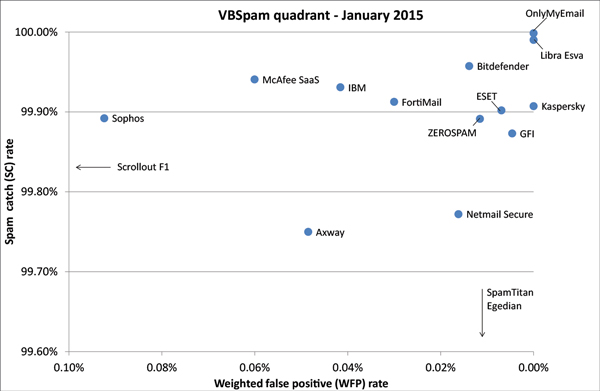 The VBSpam quadrant sets the spam catch rate against the rate at which legitimate emails are being blocked. Click here for a larger version of the graph.
The full VBSpam report can be downloaded here in HTML format or here as a PDF. For an easier to digest version of the results, a summary of the report can be downloaded here in HTML format or here as a PDF.
Are you providing an email security solution whose performance you'd like to be measured by Virus Bulletin? Do not hesitate to email VB Editor Martijn Grooten at martijn.grooten@virusbtn.com or check out the details of our consulting services.

Posted on 04 February 2015 by Martijn Grooten
Latest posts:
At VB2019, JPCERT/CC's Shusei Tomonaga and Tomoaki Tani presented a paper on attacks that exploit vulnerabilities in software used only in Japan, using malware that is unique to Japan. Today we publish both their paper and the recording of their…
In a follow-up to a paper presented at VB2019, Prismo Systems researchers Abhishek Singh and Ramesh Mani detail algorithms that can be used to detect SQL injection in stored procedures, persistent cross-site scripting (XSS), and server‑side request…
VB is pleased to reveal the details of an interesting and diverse programme for VB2020, the 30th Virus Bulletin International Conference.
At VB2019 in London, Jamf's Patrick Wardle analysed the WindTail macOS malware used by the WindShift APT group, active in the Middle East. Today we publish both Patrick's paper and the recording of his presentation.
At VB2019 cybercrime journalist and researcher Adam Haertlé presented an analysis of almost 2000 unsolicited responses sent by victims of a malicious email campaign. Today we publish both his paper and the recording of his presentation.