Latest spam filter test sees significant drop in catch rates
Posted by Virus Bulletin on Jun 26, 2015
Despite a drop in catch rates, 15 products earn a VBSpam award, with four earning a VBSpam+ award.
Spam is notoriously volatile and thus, while we like to make the news headlines with our tests as much as anyone, we would warn against reading too much into the fact that the percentage of spam missed by spam filters almost doubled in the most recent VBSpam test.
In the test, which ran for 16 days in April and May, filters missed an average of 0.4% of emails — up from 0.18% in February. Though these numbers might not appear all that worrying, very low delivery rates are part of spammers' business models. With a lot of spam containing or linking to malware, lower catch rates aren't just a nuisance.
Nevertheless, despite the lower catch rates, most products continued to do a good job of mitigating the spam problem. Fifteen out of 16 products achieved a VBSpam award in this test and four of them — Kaspersky, IBM, ESET and SpamTitan — achieved a VBSpam+ award for blocking more than 99.5% of spam, while blocking no legitimate emails and very few newsletters.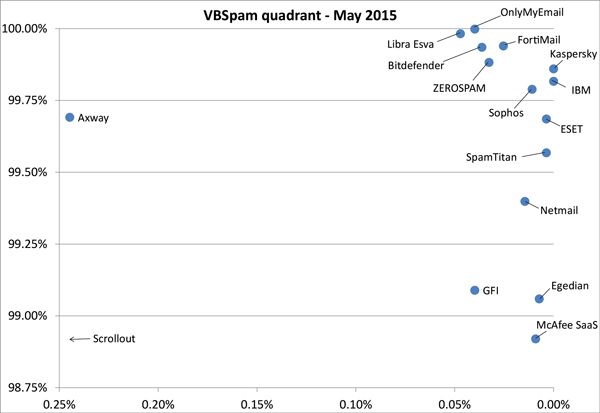 The VBSpam quadrant sets the spam catch rate against the rate at which legitimate emails are being blocked. Click here for a larger version of the graph.
The full VBSpam report can be downloaded here in HTML-format or here as a PDF.
Are you providing an email security solution whose performance you'd like to be measured by Virus Bulletin? Do not hesitate to email VB Editor Martijn Grooten at martijn.grooten@virusbtn.com or check out the details of our consulting services.

Posted on 26 June 2015 by Martijn Grooten
Latest posts:
New additions to the VB2019 conference programme include a closing keynote address from Thinkst duo Haroon Meer and Adrian Sanabria and a talk on attacks against payment systems.
Virus Bulletin is excited to announce that, thanks to generous sponsorship from Google Android, we are able to offer 20 free tickets to students who want to attend VB2019.
The Lazarus Group, generally linked to the North Korean government, is one of the most notorious threat groups seen in recent years. At VB2018 ESET researchers Peter Kálnai and Michal Poslušný presented a paper looking at the group's various…
Virus Bulletin is proud to sponsor this year's BSides London conference, which will take place next week, and we have a number of tickets to give away.
We are excited to announce the first 11 companies to partner with VB2019, whose support will help ensure a great event.