Spam levels fall below 50% for the first time in 12 years
Posted by Virus Bulletin on Jul 20, 2015
Decline not necessarily good news for spam filters.
For the first time in 12 years, less than half of email traffic is spam, Symantec reports in the latest issue of its monthly Intelligence Report (pdf).
Spam is notoriously hard to measure, and different methodologies, definitions and spam sources can give significantly different numbers. On top of that, spam also differs greatly between recipient users and organizations. So the fact that spam has dropped to less than 50 per cent of email isn't particularly newsworthy — but the decline itself is, and suggests at least a four-fold decrease in spam volumes over the past few years.
Volume is one of the problems of spam, and in that sense, the decline is good news. But for spam filters, the picture is more mixed. One the one hand, they will require fewer resources to deal with the email traffic and could thus afford to inspect each individual email more carefully.
On the other hand though, spam filtering is almost entirely reactive, in response to actual spam outbreaks. With fewer spam emails sent, spam campaigns are more likely to stay under the radar. For that reason, spammers may well find that, for them, less is indeed more.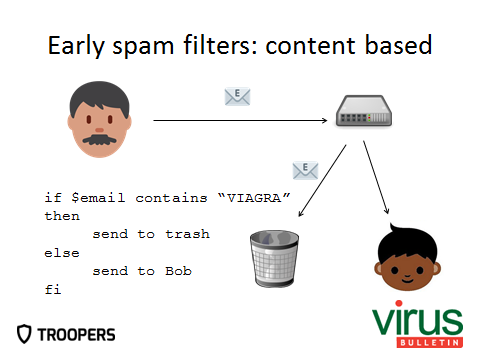 Perhaps spam filters will become mostly content-based again. (Slide from my TROOPERS15 talk.)
Posted on 20 July 2015 by
Martijn Grooten
Latest posts:
A Necurs pump-and-dump spam campaign pushing the lesser known Swisscoin botnet is mostly background noise for the Internet.
A 28-year old man from Ohio has been arrested on suspicion of having created the mysterious FruitFly malware that targeted macOS and used it to spy on its victims.
At the start of the new year, Virus Bulletin looks back at the threats seen in the 2017 and at the security products that are available to help mitigate them.
Spamhaus's annual report on botnet activity shows that botherders tend to use popular, legitimate hosting providers, domain registrars and top-level domains when setting up command-and-control servers.
As tech support scammers continue to target the computer illiterate through cold calling, VB's Martijn Grooten uses his own experience to share some advice on how to investigate such scams.