Paper: Life after the apocalypse for the Middle Eastern NJRat campaign
Posted by Virus Bulletin on Aug 14, 2015
Malware authors upped their game following 2014 disruption of No-IP.
In June last year, somewhat controversially Microsoft moved against dynamic DNS provider No-IP and seized 22 of its domains, subdomains of which were used to spread and control the NJRat (also known as Bladabindi) and NJw0rm (also known as Jenxcus) malware families, both of which primarily operated in the Middle East.
A week later, Microsoft settled with No-IP parent company Vitalwerks, which regained control of the domains. This hasn't stopped its service from being used for the spread of malware though.
Today, we publish an article by Intel Security researchers Abhishek Bhuyan and Ankit Anubhav, who looked at current NJRat campaigns in the Middle East.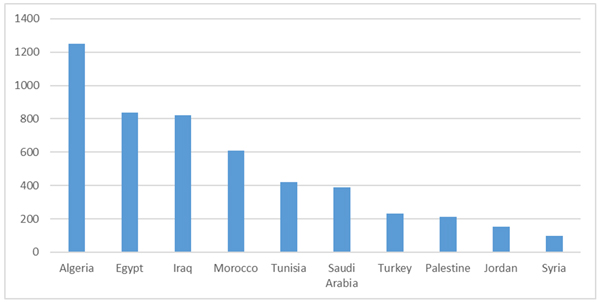 Count of unique malicious domain names found among the top 10 Middle Eastern countries (domains sorted by the geolocation of the IP address to which they point).
Historically, malware authors based in the region have made little effort to hide their goals, sometimes even calling their malware 'trojan.exe'. Recently, however, they have upped their game, one sign of which is an Arab cybercrime forum where tutorials are posted on how to make sure the malware isn't detected by different anti-virus vendors.
Abhishek and Ankit found more than 5,000 unique domains used, a little less than half of which were still active. Surprisingly, Windows XP remains a popular choice among those running NJRat, suggesting that their level of security isn't much better than those of their victims — many of whom, a Skype conversation with the malware author revealed, are sent the trojan executable disguised as a popular file type.
You can read the article here in HTML format or download it here as a PDF.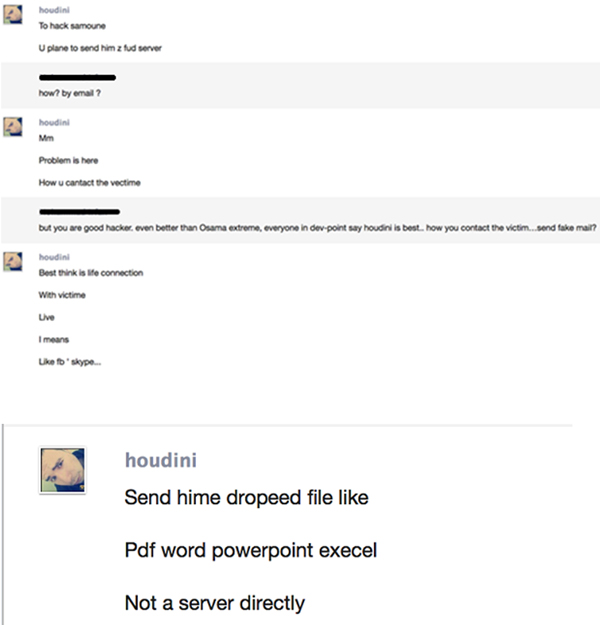 Snippets of the researchers' chat conversation with the malware author via Skype.
Posted on 14 August 2015 by
Martijn Grooten
Latest posts:
We were very sorry to learn of the passing of researcher Yonathan Klijnsma last week. Here, former VB Editor Martijn Grooten shares his memories of a talented researcher and a very kind person: this month, infosec lost a really good one.
VB has made all VB2020 localhost presentations available on the VB YouTube channel, so you can now watch - and share - any part of the conference freely and without registration.
At VB2020 localhost, threat intelligence consultant Jamie Collier used the analytical technique of backcasting to look at the rise and fall of the cyber threat intelligence industry.
At VB2020 localhost, Carbon Black's Scott Knight presented an approach he and his colleagues have taken to more realistically simulate malware attacks.
At VB2020, researcher Paul Litvak revealed how he put together a comprehensive map of threat actor use of open-source offensive security tools.