The Internet of Bad Things, Observed
Posted by Virus Bulletin on Nov 10, 2015
In his VB2015 keynote address, Ross Anderson described attacks against EMV cards.
The VB2015 opening keynote by Ross Anderson could hardly have been more timely. In his talk "The Internet of Bad Things, Observed", the Cambridge professor looked at various attacks against the EMV standard for payment cards — attacks that have been used to steal real money from real people.
Such cards, often called chip-and-PIN or chip-and-signature, are generally seen as better protected against compromised point-of-sale terminals, which have been the cause of a number of prominent data breaches in North America. On 1 October 2015, the day after Ross's talk, a liability shift took place in the US and Canada, making merchants whose terminals do not support EMV liable for fraudulent transactions.
However, Ross did make it clear that EMV is no silver bullet and that many attack vectors remain, some of which are caused by poor implementations, such as the choice of a counter for a 'random' number.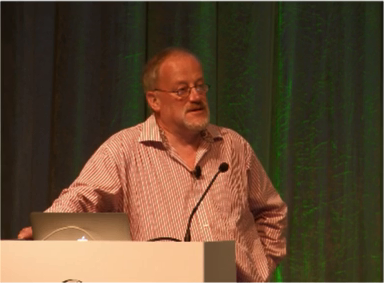 1 October also saw the inauguration of the Cambridge Cloud Cybercrime Centre, whose aim is to collect cybercrime-related data and share this with the academic community. Ross asked the audience — and the wider security community — for data feeds that could be used for academic research.
We have uploaded the video of Ross's talk to our YouTube channel so that it can be watched by those who didn't attend VB2015 in Prague. We also recommend Ross's book Security Engineering, which is available free of charge on Ross's website.
Posted on 10 November 2015 by
Martijn Grooten
Latest posts:
At VB2018 in Montreal, Ixia researcher Stefan Tanase presented a thought-provoking paper on the current state of the Internet and the worrying tendency towards raising borders and restricting the flow of information. Today we publish both his paper…
The set-up of the VBSpam test lab gives us a unique insight into the kinds of emails that are more likely to bypass email filters. This week we look at the malspam that was missed: banking and email phishing, Emotet and Bushaloader.
The cybersecurity skills gap has been described as one of the biggest challenges facing IT leaders today. At VB2018 in Montreal, ESET's Lysa Myers outlined some of the things the industry can do to help address the problem. Today we publish Lysa's…
We look forward the Nullcon 2019 conference in Goa, India, at which VB Editor Martijn Grooten will give a talk on the state of malware.
We see a lot of spam in the VBSpam test lab, and we also see how well such emails are being blocked by email security products. Recently some of the emails that bypassed security products included a broken Amazon phishing campaign, a large fake UPS…