VB2016 video: Last-minute paper: A malicious OS X cocktail served from a tainted bottle
Posted by Martijn Grooten on Apr 28, 2017
Though nowhere near as exotic as it was a few years ago, malware for OS X continues to attract researchers' attention. This was certainly the case for the KeyRanger ransomware and the Keydnap credentials-stealer, both of which spread through a compromised server of the legitimate Transmission BitTorrent client.
In a VB2016 last-minute presentation, ESET researchers Peter Kalnai and Martin Jirkal took a careful look at both instances. They also explained how they used the Volatility Framework to analyse the malware, and to create a plug-in to detect IoCs on memory dumps of compromised systems.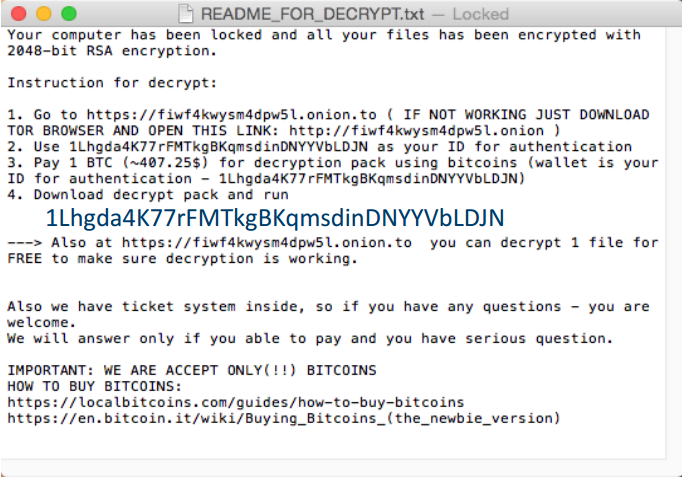 The video of Peter and Martin's presentation is now available to watch on our growing YouTube channel – where, incidentally, you'll also find a video from IBM researcher Martin Korman who, a year earlier, presented a paper on using Volatility to extract binaries from malware samples.
If you're interested in OS X malware, make sure you join us at VB2017 where Patrick Wardle (Synack) will discuss how to analyse such malware with a custom C&C server, while Tiberius Axinte (Bitdefender) will discuss the OS X component of APT28's XAgent. Peter Kalnai will be on the programme as well: together with his colleague Michal Poslusny, he will present a paper on how banking trojans make use of web browsers.
Registration for VB2017 is now open - register before 30 June 2017 to qualify for the early bird rate!
Latest posts:
The 68-byte EICAR test file plays as important a role today as it did 19 years ago. In this week's Throwback Thursday we look back at a VB99 conference paper in which Randy Abrams described how this 'miracle tool' worked and how it could be used.
A new piece of cryptocurrency-mining malware on macOS has been found to use the popular XMRig miner.
CDN provider Cloudflare reports an increase in DDoS attacks targeting layer 7 and focusing on exhausting server resources rather than sending large volumes of data. This fits in a wider trend.
Through fake social media accounts, users were tricked into installing an Android application that was actually a mobile version of the FinFisher spyware.
The Hide'n'Seek IoT botnet has received an update to make its infection persist on infected devices beyond a restart.