Nominations opened for fourth Péter Szőr Award
Posted by Martijn Grooten on Jul 4, 2017
Virus Bulletin is seeking nominations for the fourth annual Péter Szőr Award.
The award was inaugurated during the VB2014 conference, in honour of late security researcher and malware expert Péter Szőr, who passed away in November 2013. It is given to for the best piece of technical security research published during the preceding year; for the upcoming award this is between 1 July 2016 and 30 June 2017.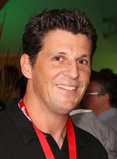 Péter Szőr, a 'brilliant mind and a true gentleman'.

A shortlist will be drawn up from the nominations received, from which the Virus Bulletin Advisory Board will select the winner. This award will be presented during VB2017 in Madrid.
Past winners of the award include a team of ESET researchers for their paper on the 'Windigo' malware campaign and an Intel Security team for their paper (pdf) on a polymorphic botnet. Last year's winner was Yonathan Klijnsma (Fox-IT), for his paper (pdf) on the Mofang APT group.
There is certainly no shortage of good security papers being published, but the news tombola in which IT security finds itself means that we quickly forget even those that initially stand out. The Péter Szőr Award is an excellent opportunity to highlight and recognise those really brilliant papers, while at the same time remembering the talented researcher who is still missed by many.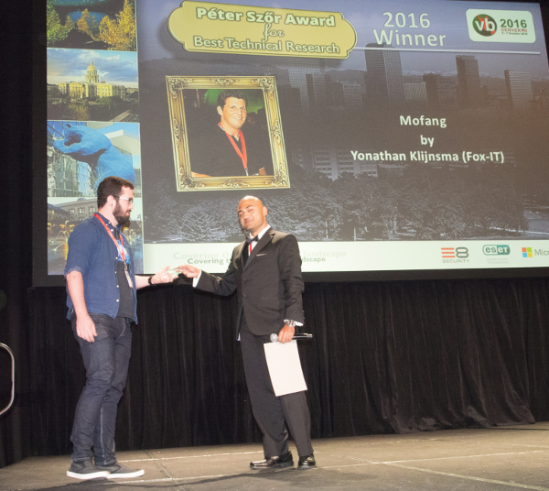 Sanchit Karve, one of the winners of the 2015 award, congratulating 2016 winner Yonathan Klijnsma.


To submit your nominations for this year's award please use this form, or else email editor@virusbulletin.com.
Latest posts:
As has become tradition, VB2017 will once again see a security industry table football tournament. Register your team now for some great fun and adrenaline-filled matches in between sessions in Madrid!
Greater Manchester Police is one of many organizations still running Windows XP on some of its systems. This is bad practice, but the case against running XP is far more subtle than we often pretend it is.
Researchers from ESET have found a new way in which the FinSpy/FinFisher 'government spyware' can infect users, details of which they will present at VB2017 in Madrid.
Activity monitoring by security products in general, and HTTPS traffic inspection in particular, are sensitive issues in the security community. There is a time and a place for them, VB's Martijn Grooten argues, but only when they are done right.
We preview the VB2017 paper by Fortinet researcher Axelle Apvrille, in which she looks at some less obvious tools for reverse engineering Android malware.