Nominations opened for fourth Péter Szőr Award
Posted by Martijn Grooten on Jul 4, 2017
Virus Bulletin is seeking nominations for the fourth annual Péter Szőr Award.
The award was inaugurated during the VB2014 conference, in honour of late security researcher and malware expert Péter Szőr, who passed away in November 2013. It is given to for the best piece of technical security research published during the preceding year; for the upcoming award this is between 1 July 2016 and 30 June 2017.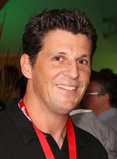 Péter Szőr, a 'brilliant mind and a true gentleman'.

A shortlist will be drawn up from the nominations received, from which the Virus Bulletin Advisory Board will select the winner. This award will be presented during VB2017 in Madrid.
Past winners of the award include a team of ESET researchers for their paper on the 'Windigo' malware campaign and an Intel Security team for their paper (pdf) on a polymorphic botnet. Last year's winner was Yonathan Klijnsma (Fox-IT), for his paper (pdf) on the Mofang APT group.
There is certainly no shortage of good security papers being published, but the news tombola in which IT security finds itself means that we quickly forget even those that initially stand out. The Péter Szőr Award is an excellent opportunity to highlight and recognise those really brilliant papers, while at the same time remembering the talented researcher who is still missed by many.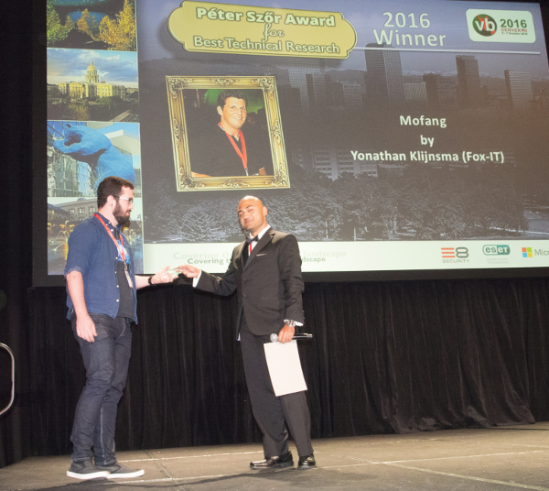 Sanchit Karve, one of the winners of the 2015 award, congratulating 2016 winner Yonathan Klijnsma.


To submit your nominations for this year's award please use this form, or else email editor@virusbulletin.com.
Latest posts:
In the second part of this two-part blog series, we look at five more memorable Virus Bulletin conference presentations.
With the VB2017 Call for Papers out, here are five tips to increase your chances of getting your submission accepted.
Following the arrest of WannaCry hero Marcus Hutchings, suggestions have been made that he was behind the WannaCry malware itself, and that he inserted the kill switch to make himself a hero. This seems highly unlikely.
In a two-part blog post series, we look back at ten memorable VB conference presentations from the past ten years.
The authors of the Trickbot banking trojan seem to have taken note of the use of SMB by WannaCry and (Not)Petya and have added an (experimental) module that uses SMB for lateral movement.