Nominations opened for fourth Péter Szőr Award
Posted by Martijn Grooten on Jul 4, 2017
Virus Bulletin is seeking nominations for the fourth annual Péter Szőr Award.
The award was inaugurated during the VB2014 conference, in honour of late security researcher and malware expert Péter Szőr, who passed away in November 2013. It is given to for the best piece of technical security research published during the preceding year; for the upcoming award this is between 1 July 2016 and 30 June 2017.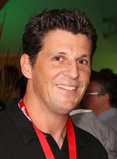 Péter Szőr, a 'brilliant mind and a true gentleman'.

A shortlist will be drawn up from the nominations received, from which the Virus Bulletin Advisory Board will select the winner. This award will be presented during VB2017 in Madrid.
Past winners of the award include a team of ESET researchers for their paper on the 'Windigo' malware campaign and an Intel Security team for their paper (pdf) on a polymorphic botnet. Last year's winner was Yonathan Klijnsma (Fox-IT), for his paper (pdf) on the Mofang APT group.
There is certainly no shortage of good security papers being published, but the news tombola in which IT security finds itself means that we quickly forget even those that initially stand out. The Péter Szőr Award is an excellent opportunity to highlight and recognise those really brilliant papers, while at the same time remembering the talented researcher who is still missed by many.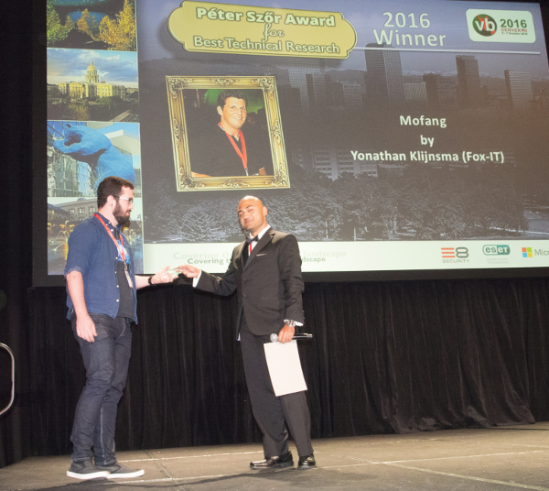 Sanchit Karve, one of the winners of the 2015 award, congratulating 2016 winner Yonathan Klijnsma.


To submit your nominations for this year's award please use this form, or else email editor@virusbulletin.com.
Latest posts:
Though IPv6 is gradually replacing IPv4 on the Internet's network layer, email is lagging behind, the difficulty in blocking spam sent over IPv6 cited as a reason not to move. But would we really have such a hard time blocking spam sent over IPv6?
Google has made a subtle change to its Chrome browser, banning the inline installation of new extensions, thus making it harder for malware authors to trick users into unwittingly installing malicious extensions.
We publish a paper by researchers from Quick Heal Security Labs in India, who study the EternalBlue and DoublePulsar exploits in full detail.
Several VB2018 papers deal explicitly or implicitly with threats that have been attributed to North Korean actors.
The domain of the little-used SpamCannibal DNS blacklist had expired, resulting in it effectively listing every single IP address.