WireX DDoS botnet takedown shows the best side of the security industry
Posted by Martijn Grooten on Aug 29, 2017
It is easy to be cynical about the security industry and its tendency to make ever bigger mountains out of molehills, but behind a thin layer of marketing, there are a great many people who really care about making the world a more secure place.
We have seen many examples of researchers from competitor companies working together in botnet takedowns, law enforcement actions against malicious actors, and the writing of more secure standards. The latest example of such a collaboration is the combined effort that led to the takedown of the WireX Android DDoS botnet.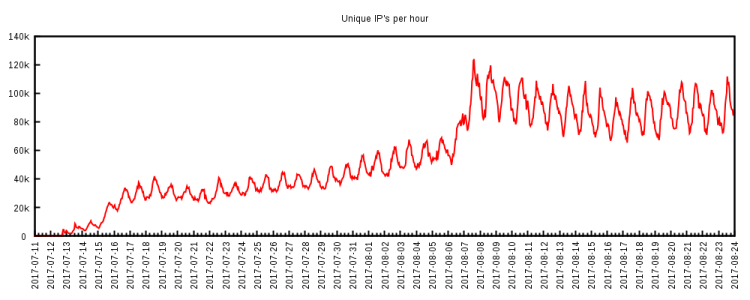 The number of unique IP addresses active in the WireX botnet every hour.
As DDoS botnets go, WireX wasn't particularly powerful, though still powerful enough to make many a website unavailable, thus making the associated ransom notes rather credible. It also wasn't particularly hard to detect, since it used random 26-character strings for the User-Agent header. Of course, this is something that could easily have been changed.
What made WireX rather unique though, was that it ran on Android devices and was made up of some 300 apps available on Google's official Play Store. These apps have since been removed both from the Play Store and from all infected devices.
The takedown effort was a combined effort from several companies, four of which — Akamai, Cloudflare, Flashpoint and RiskIQ — published the very same post-mortem blog post earlier this week. This is really the security industry at its best.
Virus Bulletin is always happy to help facilitate industry-wide collaboration, for example during the upcoming VB2017 conference. Don't hesitate to contact me (martijn.grooten@virusbulletin.com) if you think we can be of help! And don't forget to register for the conference for a chance to meet with other researchers and build the connections that are essential for a more secure world!
Latest posts:
Static analysis and dynamic analysis each have their shortcomings as methods for analysing potentially malicious files. Today, we publish a VB2018 paper by Check Point researchers Yoni Moses and Yaniv Mordekhay, in which they describe a method that…
The call for papers for VB2019 closes on 17 March, and while we've already received many great submissions, we still want more!
Registration for VB2019, the 29th Virus Bulletin International Conference, is now open, with an early bird rate available until 1 July.
When we are calling for papers for the Virus Bulletin conference as we are doing now, we really mean a written paper. But don't worry if you've never written a paper - we can help!
Amit Serper first analysed the OSX/Pirrit adware in 2016, highlighting some of its malware-like techniques, and soon afterwards started receiving legal threats from the company behind it. At VB2018 Amit gave a presentation in which he discussed both…