VB2017 paper: Offensive malware analysis: dissecting OSX/FruitFly.B via a custom C&C server
Posted by Martijn Grooten on Nov 29, 2017
Few readers of this blog will believe that there aren't any security issues with Apple's macOS operating system, a point made rather unsubtly by yesterday's discovery of a flaw that lets anyone log into a computer running macOS High Sierra – as the root user, no less.
Those who have been following Patrick Wardle's work will certainly not be surprised by the fact that Macs do have security issues. His Objective See tools are widely lauded for their ability to detect existing and new threats, while his VB talks in 2014, 2015 and 2016 have all been very popular.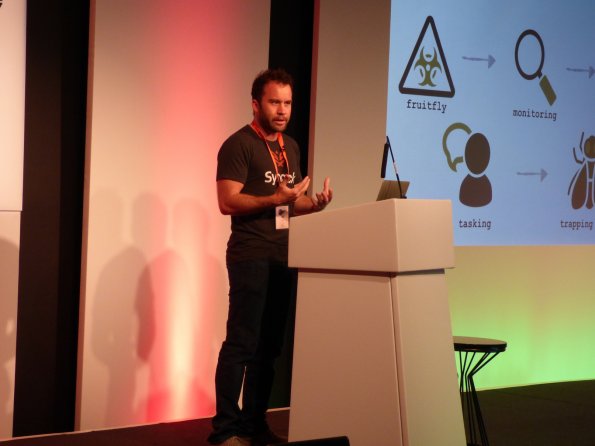 Patrick Wardle was back at VB2017 where he gave another popular presentation.
Patrick was back at VB2017 in Madrid, this time to look at a specific piece of macOS malware: FruitFly. He presented a paper in which he analysed the malware (more specifically, a variant of it discovered in January of this year) through a custom C&C server – a technique that will be of equal interest to researchers of malware on other platforms.
Today, we publish Patrick's long and detailed paper in both HTML and PDF format; we have also uploaded the video of his presentation to our YouTube channel.
Latest posts:
Last week, VB Editor Martijn Grooten travelled to the Kenyan capital Nairobi to speak at the 6th edition of the AfricaHackon event.
Still in-development kit thus far only targets Flash Player vulnerabilities
The call for last-minute papers for VB2019 is now open. Submit before 1 September to have your abstract considered for one of the nine slots reserved for 'hot' research.
Virus Bulletin is seeking nominations for the sixth annual Péter Szőr Award.
New additions to the VB2019 conference programme include a closing keynote address from Thinkst duo Haroon Meer and Adrian Sanabria and a talk on attacks against payment systems.