Spamhaus report shows many botnet controllers look a lot like legitimate servers
Posted by Martijn Grooten on Jan 9, 2018
Of all the annual security reports and blog posts that look back at the previous year, that of Spamhaus is one I particularly look forward to, as it always comes with good and interesting data.
Though The Spamhaus Project is probably best known for its blacklists that are widely used for filtering spam, its researchers also keep track of botnet activity, and the non-profit publishes lists of IP addresses and domains used by botnets for command and control (C&C).
It is these C&C servers (or botnet controllers) that its Botnet Threat Report focuses on, and I think it's worth reading to get a good idea of how botnet owners choose hosting providers, top-level domains and domain registrars. It turns out that they tend to go for the popular ones.
The hosting provider most commonly used to host C&C servers is Amazon Web Services, though OVH (another very large hosting provider) is slightly more popular if one also includes compromised services used for the purpose. The most popular top-level domain used for C&C is .com, and the large Namecheap is most commonly used as a domain registrar.

None of this should be very surprising, but it does show that fighting botnets is a lot more complicated than simply blocking all Russian hosting providers, all Chinese registrars and new gTLDs like .space: even if one is willing to ignore the many false positives such an approach no doubt generates, a whole lot will still fall through the maze.
The report does point out that there is a category of C&C servers that can't be tied to hosting providers, registrars and TLDs: those using Tor's Onion Services. To mitigate the risk of botnets using these kinds C&C servers, I agree with Spamhaus: Tor should be disabled by default and only be turned on for and by people who need it.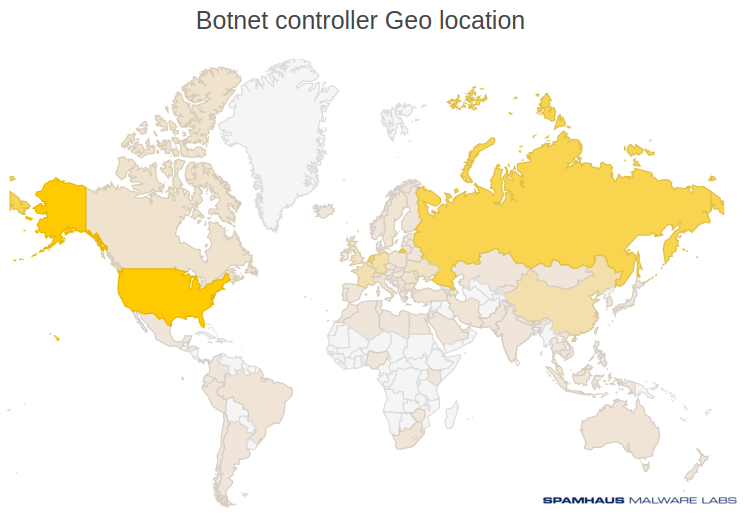 Latest posts:
A report on the number of cyber attacks faced by UK local authorities is a good example of how the large numbers seen in many reports on security are rather meaningless.
The UK's National Cyber Security Centre (NCSC) has provided helpful and practical advice on preventing and detecting lateral movement by an attacker within a network.
If you are considering submitting a proposal for a talk to VB2018 and you're not familiar with the event, you may find it useful to know what kind of people attend the conference.
An unattributed malware attack has disrupted some computer systems of the 2018 Winter Olympics. In 1994, a computer virus also targeted the Winter Olympics.
Thousands of websites, including many sites of government organisations in the UK, the US and Sweden, were recently found to have been serving a cryptocurrency miner. More interesting than the incident itself, though, are the lessons that can be…