Netflix issue shows email verification really does matter
Posted by Martijn Grooten on Apr 10, 2018
In the email security community, the use of confirmed opt-in has long been a recommended practice: an email address given to you can't be used until the account owner has confirmed (by clicking a link in or replying to a confirmation email) that they do indeed own that email address. When email service provider Mailchimp removed confirmed opt-in as the default for its customers, it received strong criticism, and VB has, in the past, found a positive correlation between newsletters that use a confirmed opt-in procedure and their delivery rates.
Though receiving unwanted email because someone has accidentally signed up to a newsletter using your email address may be a relatively rare occurrence, there are more important security reasons that make confirmed opt-in an absolute must.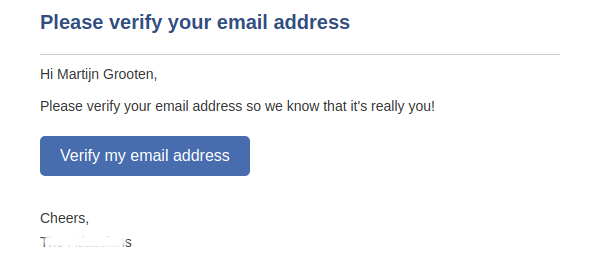 A few years ago, it was discovered that Skype's failure to validate email email addresses could lead to account hijacks. Now a researcher has found a way to use Netflix's lack of verification, combined with the fact that Gmail ignores dots in email addresses, to trick someone else into paying for your Netflix subscription.
The proof-of-concept involves finding a Gmail address that is used for a Netflix subscription, then registering a new account with a few dots added or removed and using a throwaway credit card, which is subsequently cancelled. Netflix will then send an email asking for a card update, which the original user, being a Netflix subscriber, may take to be a legitimate request.
I think it is unfair to blame this on Gmail and its decision to make a.n.other@gmail.com and another@gmail.com go to the same mailbox. There are many other ways in which different addresses can lead to the same mailbox. Netflix, which tends to a have a good security reputation in general, should simply follow a long established best practice and verify those email addresses, even when people only sign up for a free trial.
Latest posts:
Domains play a crucial role in most cyber attacks, from the very advanced to the very mundane. Today, we publish a VB2018 paper by Paul Vixie (Farsight Security) who undertook the first systematic study into the lifetimes of newly registered domains.…
Constraint programming is a lesser-known technique that is becoming increasingly popular among malware analysts. In a paper presented at VB2018 Thaís Moreira Hamasaki presented an overview of the technique and explained how it can be applied to the…
With a little less than a month before the deadline of the call for papers for VB2019, Virus Bulletin encourages submissions from experienced speakers and newcomers alike.
At VB2018 in Montreal, Ixia researcher Stefan Tanase presented a thought-provoking paper on the current state of the Internet and the worrying tendency towards raising borders and restricting the flow of information. Today we publish both his paper…
The set-up of the VBSpam test lab gives us a unique insight into the kinds of emails that are more likely to bypass email filters. This week we look at the malspam that was missed: banking and email phishing, Emotet and Bushaloader.