Netflix issue shows email verification really does matter
Posted by Martijn Grooten on Apr 10, 2018
In the email security community, the use of confirmed opt-in has long been a recommended practice: an email address given to you can't be used until the account owner has confirmed (by clicking a link in or replying to a confirmation email) that they do indeed own that email address. When email service provider Mailchimp removed confirmed opt-in as the default for its customers, it received strong criticism, and VB has, in the past, found a positive correlation between newsletters that use a confirmed opt-in procedure and their delivery rates.
Though receiving unwanted email because someone has accidentally signed up to a newsletter using your email address may be a relatively rare occurrence, there are more important security reasons that make confirmed opt-in an absolute must.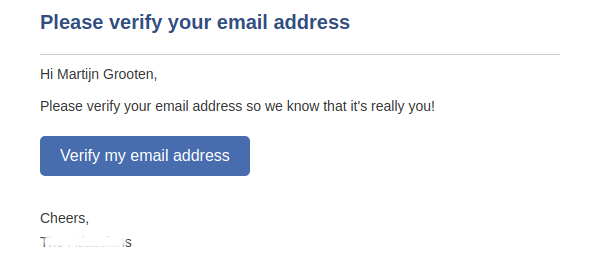 A few years ago, it was discovered that Skype's failure to validate email email addresses could lead to account hijacks. Now a researcher has found a way to use Netflix's lack of verification, combined with the fact that Gmail ignores dots in email addresses, to trick someone else into paying for your Netflix subscription.
The proof-of-concept involves finding a Gmail address that is used for a Netflix subscription, then registering a new account with a few dots added or removed and using a throwaway credit card, which is subsequently cancelled. Netflix will then send an email asking for a card update, which the original user, being a Netflix subscriber, may take to be a legitimate request.
I think it is unfair to blame this on Gmail and its decision to make a.n.other@gmail.com and another@gmail.com go to the same mailbox. There are many other ways in which different addresses can lead to the same mailbox. Netflix, which tends to a have a good security reputation in general, should simply follow a long established best practice and verify those email addresses, even when people only sign up for a free trial.
Latest posts:
Today, we release the video of the VB2018 presentation by Check Point researcher Aseel Kayal, who connected the various dots relating to campaigns by the APT-C-23 threat group.
VB calls on organisations and individuals involved in threat intelligence from around the world to participate in next year's Virus Bulletin conference.
Today, we publish the VB2018 paper by Qihoo 360 researchers Ya Liu and Hui Wang, on extracting data from variants of the Mirai botnet to classify and track variants.
2018 has seen an increase in the variety of botnets living on the Internet of Things - such as Hide'N'Seek, which is notable for its use of peer-to-peer for command-and-control communication. Today, we publish the VB2018 paper by Bitdefender…
In a new paper, Avast researchers Jan Sirmer and Adolf Streda look at how a spam campaign sent via the Necurs botnet was delivering the Flawed Ammyy RAT. As well as publishing the paper, we have also released the video of the reseachers' VB2018…