Netflix issue shows email verification really does matter
Posted by Martijn Grooten on Apr 10, 2018
In the email security community, the use of confirmed opt-in has long been a recommended practice: an email address given to you can't be used until the account owner has confirmed (by clicking a link in or replying to a confirmation email) that they do indeed own that email address. When email service provider Mailchimp removed confirmed opt-in as the default for its customers, it received strong criticism, and VB has, in the past, found a positive correlation between newsletters that use a confirmed opt-in procedure and their delivery rates.
Though receiving unwanted email because someone has accidentally signed up to a newsletter using your email address may be a relatively rare occurrence, there are more important security reasons that make confirmed opt-in an absolute must.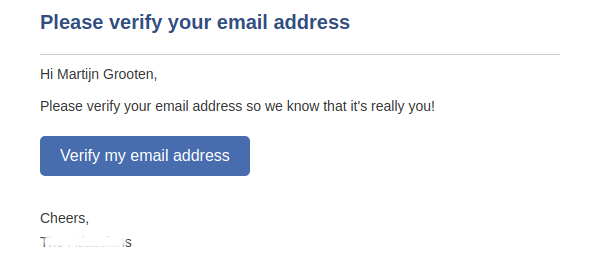 A few years ago, it was discovered that Skype's failure to validate email email addresses could lead to account hijacks. Now a researcher has found a way to use Netflix's lack of verification, combined with the fact that Gmail ignores dots in email addresses, to trick someone else into paying for your Netflix subscription.
The proof-of-concept involves finding a Gmail address that is used for a Netflix subscription, then registering a new account with a few dots added or removed and using a throwaway credit card, which is subsequently cancelled. Netflix will then send an email asking for a card update, which the original user, being a Netflix subscriber, may take to be a legitimate request.
I think it is unfair to blame this on Gmail and its decision to make a.n.other@gmail.com and another@gmail.com go to the same mailbox. There are many other ways in which different addresses can lead to the same mailbox. Netflix, which tends to a have a good security reputation in general, should simply follow a long established best practice and verify those email addresses, even when people only sign up for a free trial.
Latest posts:
Since their return four years ago, Office macros have been one of the most common ways to spread malware. Today, we publish a research paper which looks in detail at a campaign in which VBA macros are used to execute PowerShell code, which in turn…
Within a few years, Android malware has grown from a relatively small threat to a huge problem involving more than three million new malware samples a year. Axelle Apvrille, one of the world's leading Android malware researchers, will deliver a…
Compromised websites are being used to serve fake Flash Player uploads that come with a malicious payload.
Next week, VB Editor Martijn Grooten will be at the RSA Conference in San Francisco.
VB is excited to reveal the details of an interesting and diverse programme for VB2018, the 28th Virus Bulletin International Conference, which takes place 3-5 October in Montreal, Canada.