Turkish Twitter users targeted with mobile FinFisher spyware
Posted by Martijn Grooten on May 15, 2018
A new research paper by digital rights organization Access Now looks at how FinFisher has been used against people interested in anti-government protests in Turkey.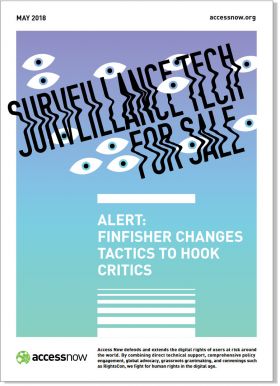 Through fake social media accounts, users were tricked into installing an Android application which was actually a mobile version of the FinFisher spyware.
The use of a massive campaign, as opposed to targeting very specific individuals, fits in with other recent FinFisher activity. At VB2017, ESET researcher Filip Kafka showed how the same campaign used ISPs to serve malware.
The use of larger scale attacks by government spyware is, on the one hand, a worrying sign that shows a growth in this kind of activity. On the other hand, it does make it easier for the malware campaigns to be detected, both by security tools and by the platforms, such as Twitter, that are being abused.
Filip Kafka will be back at VB2018 in Montreal to talk about that other European company selling spyware to governments: Hacking Team. The video of his VB2017 presentation on FinFisher can be seen on our YouTube channel.
Registration for VB2018 is now open. Book your ticket now to guarantee a place at one of the most international security conferences – register before 1 July to qualify for an Early Bird discount.
Latest posts:
Today, we have published the video of a VB2018 presentation by Kaspersky Lab researchers Kurt Baumgartner and Mike Scott, who looked at the latest activity of the Turla group.
Today we publish the video of the VB2018 presentation by Google researcher Lukasz Siewierski on the Triada Android malware and Google's work with OEMs to remove it from infected devices.
Today, we publish the VB2018 paper by Masarah Paquet-Clouston (GoSecure) who looked at the supply chain behind social media fraud.
Today, we publish the VB2018 paper from Saher Naumaan (BAE Systems) who looks at malware variants that contain a wiper functionality. We also publish the recording of her presentation.
The infamous Emotet trojan has added the capability to steal full email bodies from infected machines, opening the possibilities for more targeted spam and phishing campaigns.