Turkish Twitter users targeted with mobile FinFisher spyware
Posted by Martijn Grooten on May 15, 2018
A new research paper by digital rights organization Access Now looks at how FinFisher has been used against people interested in anti-government protests in Turkey.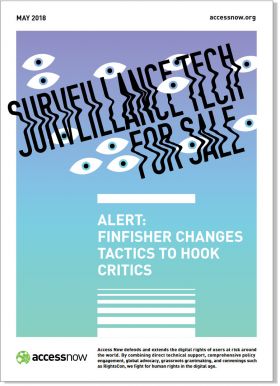 Through fake social media accounts, users were tricked into installing an Android application which was actually a mobile version of the FinFisher spyware.
The use of a massive campaign, as opposed to targeting very specific individuals, fits in with other recent FinFisher activity. At VB2017, ESET researcher Filip Kafka showed how the same campaign used ISPs to serve malware.
The use of larger scale attacks by government spyware is, on the one hand, a worrying sign that shows a growth in this kind of activity. On the other hand, it does make it easier for the malware campaigns to be detected, both by security tools and by the platforms, such as Twitter, that are being abused.
Filip Kafka will be back at VB2018 in Montreal to talk about that other European company selling spyware to governments: Hacking Team. The video of his VB2017 presentation on FinFisher can be seen on our YouTube channel.
Registration for VB2018 is now open. Book your ticket now to guarantee a place at one of the most international security conferences – register before 1 July to qualify for an Early Bird discount.
Latest posts:
Last week, VB Editor Martijn Grooten travelled to the Kenyan capital Nairobi to speak at the 6th edition of the AfricaHackon event.
Still in-development kit thus far only targets Flash Player vulnerabilities
The call for last-minute papers for VB2019 is now open. Submit before 1 September to have your abstract considered for one of the nine slots reserved for 'hot' research.
Virus Bulletin is seeking nominations for the sixth annual Péter Szőr Award.
New additions to the VB2019 conference programme include a closing keynote address from Thinkst duo Haroon Meer and Adrian Sanabria and a talk on attacks against payment systems.