VB2019 London - join us for the most international threat intelligence conference!
Posted by Martijn Grooten on Dec 11, 2018
If you see cybersecurity as a battle between attackers and defenders, then there are enough good news stories to demonstrate that the former aren't necessarily winning. But the number of botnets and threat groups, as well as the number of research and analysis tools, can often feel rather overwhelming.
No organisation can be expected to keep track of all threat groups, or have working knowledge of all available tools – and even for the groups that an organisation does follow, there will be others with additional intelligence.
That is why Virus Bulletin, since its founding in 1989, has focused on facilitating the sharing of intelligence between researchers and analysts, product managers and CISOs. This is especially the case of the Virus Bulletin Conference, the 28th edition of which was held this autumn in Montreal.
As we now prepare for the next conference, VB2019, to be held 2-4 October in London, UK, we would like to ask anyone working in any aspect threat intelligence what we can do to make the conference even more attractive.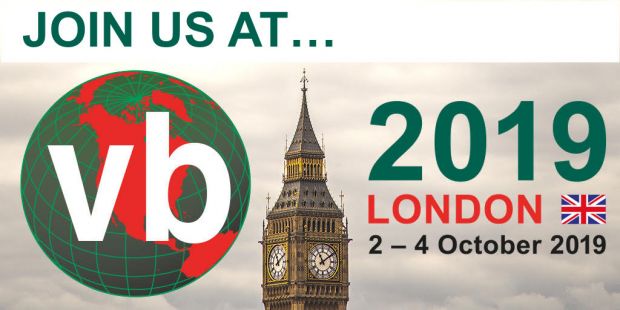 We want to have as many individuals and organisations participate, whether as speakers (the call for papers will open in January), as sponsors/partners (ask us about the sponsor pack which we just released!), as regular attendees (tickets will be on sale from spring 2019), or maybe in some other capacity that we haven't thought of. Please don't hesitate to send us your suggestions!
The strength of the Virus Bulletin Conference has always been its international character, and thus we encourage organisations from around the world, or those with a global reach, to get in touch with us. Because we cannot win in cybersecurity without working together, even with our competitors.
Latest posts:
Have you analysed a new online threat? Do you know a new way to defend against such threats? Are you tasked with securing systems and fending off attacks? The call for papers for VB2020 is now open and we want to hear from you!
Today we publish the VB2019 paper by Cybereason researchers Mor Levi, Amit Serper and Assaf Dahan on Operation Soft Cell, a targeted attack against telecom providers around the world.
At VB2019 in London a group of researchers from the Stratosphere Lab at the Czech Technical University in Prague presented a paper in which they analysed and dissected the cyber espionage activities of an APT group in Latin America through the…
In a paper presented at VB2019 in London, researchers Miriam Cihodariu (Heimdal Security) and Andrei Bogdan Brad (Code4Romania) looked at how surveillance is represented in fiction and how these representations are shaping people's attitudes to…
At VB2019 in London industry veterans Righard Zwienenberg and Eddy Willems took a detailed look at the relationship between past and current cyber threats. Today, we publish both their paper and the recording of their presentation.