VB2020 update - currently business as usual
Posted by on Mar 16, 2020
Like everyone around the world, we at Virus Bulletin have been closely following the news about the COVID-19 outbreak. Our team is spread throughout Europe (UK, Italy, Hungary and Romania) and we are each experiencing the outbreak from our different viewpoints. We are deeply saddened by the many lives lost and humbled by the efforts put in by health professionals around the world.
We are also sad that the organisers of several security conferences have been forced to cancel their events. We know all too well how much time and effort goes into the organisation of a conference and hope these events will be able to come back even stronger next year.
This year's Virus Bulletin conference, VB2020, to be held in Dublin, Ireland, is not due to start until 30 September, more than six months away. While (as every year) we are planning for many different possible scenarios, there is currently no reason to assume the conference will be affected by COVID-19 restrictions – we are carefully monitoring the global situation and the various travel and health advice, but in the meantime planning and arrangements are going ahead as usual.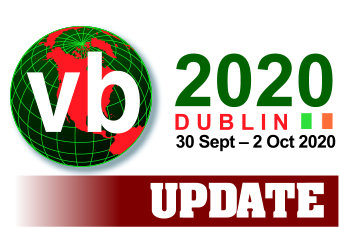 This morning we closed the call for papers. As every year, the number of submissions was several times greater than the number of slots available, but it was a little lower than previous years, with some people having told us they are afraid to commit to any conference while their employer has banned all non-essential business travel. To accommodate those people and the research they want to share, we have decided to leave a greater number of slots open for last-minute papers than we would usually do, in the hope that by the time we issue the call for last-minute papers (in late summer) some of the restrictions will have been lifted.
If you have any questions about the conference, coronavirus-related or not, don't hesitate to get in touch at conference@virusbulletin.com.


Latest posts:
At VB2019, JPCERT/CC's Shusei Tomonaga and Tomoaki Tani presented a paper on attacks that exploit vulnerabilities in software used only in Japan, using malware that is unique to Japan. Today we publish both their paper and the recording of their…
In a follow-up to a paper presented at VB2019, Prismo Systems researchers Abhishek Singh and Ramesh Mani detail algorithms that can be used to detect SQL injection in stored procedures, persistent cross-site scripting (XSS), and server‑side request…
VB is pleased to reveal the details of an interesting and diverse programme for VB2020, the 30th Virus Bulletin International Conference.
At VB2019 in London, Jamf's Patrick Wardle analysed the WindTail macOS malware used by the WindShift APT group, active in the Middle East. Today we publish both Patrick's paper and the recording of his presentation.
At VB2019 cybercrime journalist and researcher Adam Haertlé presented an analysis of almost 2000 unsolicited responses sent by victims of a malicious email campaign. Today we publish both his paper and the recording of his presentation.