VB2021 call for papers - now open, to all!
Posted by on Jan 19, 2021
2020 proved to be an extraordinary – in the true sense of the word – year for everyone, and 2021 has already thrown some curveballs in the short few weeks since it began. Nevertheless, we are cautiously optimistic about the year ahead and, whilst keeping a careful eye on the global health and travel situation, planning and arrangements for VB2021 are going ahead: for an in-person event, in Prague, Czech Republic, from 6 to 8 October 2021.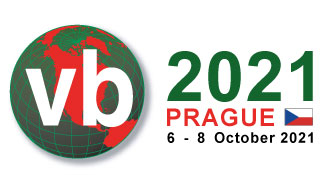 We are now inviting submissions from those wishing to present papers at VB2021.
Of course, we are aware that the situation over the coming months is uncertain, and for that reason we are making plans to accommodate presentations at VB2021 that are given remotely as well as those that can be given in person – so don't hesitate to submit, regardless of whether or not you know at this stage whether you'll be able to travel to Prague!
We welcome submissions on all aspects of digital security, from the very technical to the more general, whether you are an experienced speaker or a first-time presenter.
The VB Conference has a broad focus, but has always concentrated on analysing and preventing real-world attacks: from malware analyses to APT campaign investigations; from tools that help with research to new detection methods; from attacks against the BIOS to research into global infection rates. We also very much welcome 'out-of-the-box' submissions.
We are particularly interested in hearing from speakers who can share their experience from the real world, who are employed by businesses, governments or NGOs and tasked with securing systems and fending off attacks.
The deadline for submissions is 21 March 2021.
You can find more details about the call for papers here, or go directly to the Extranet where you can submit a paper.
Should you have any queries about the call for papers, if you have an idea that doesn't fit the standard format, or just want to talk over your proposal prior to submitting, please don't hesitate to email us at [email protected].
We look forward to hearing from you!