Well, that escalated quickly. From penny-stealing malware to multi-million-dollar heists, a quick overview of the bitcoin bonanza in the digital era
Wednesday 24 September 16:00 - 16:30, Green room.
Santiago Pontiroli Kaspersky Lab

This paper is available online (HTML, PDF).
download slides (PDF)
From the rise and demise of Silk Road to the current state of the crypto-currency frenzy we'll travel together in this journey of mysterious characters, million-dollar robberies and stealthy malware that will make you think twice before going online with your money.
In this presentation we'll analyse the most interesting malware samples that target the popular bitcoin currency and some of the major events that surrounded it during this past year. We'll investigate the flaws that allowed several bad guys to steal more money than one could ever imagine, and how they did it without ever firing a gun or stepping into a bank.
We'll round off with some of the benefits that digital currencies offer to Latin American countries and the state of crypto-currency-stealing malware in the region and worldwide. Ranging from malicious PACs to botnets, we'll get our hands dirty with some interesting technical details and statistics.
Hold on to your seat, this is going to be one bumpy (but fun) crypto-ride, uncovering hidden Latin America's cybercriminal operations!
Click here for more details about the conference.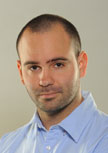 Santiago Pontiroli
Santiago Pontiroli joined Kaspersky Lab as a security researcher in October 2013. His principal responsibilities include the analysis and investigation of security threats in the SOLA region (South of Latin America), web application security, the development of automatization tools stemming from threat intelligence studies, and the reverse engineering of programs with malicious code. Before joining Kaspersky Lab, Santiago served as Development Leader in Accenture for projects like Site Concept Studio and Avanade Connected Methods, where he supervised all technical aspects of his teams, developed and presented demos on the different platforms and offered technical support to the sales team. Prior to Accenture, Santiago worked as a consultant for several companies providing support on access control software, system and network administration, server hardening and web application security. Santiago holds degrees in systems engineering and systems analysis from the Universidad Tecnologica Nacional F.R.L.P in Buenos Aires, Argentina.
@spontiroli