Why Attend a VB Conference?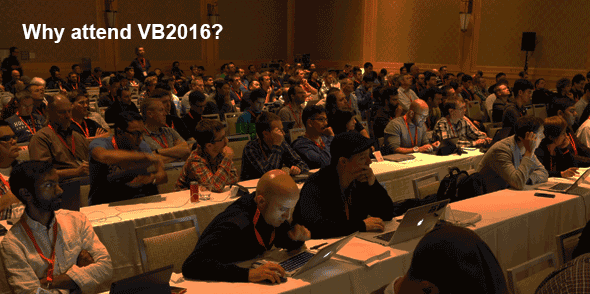 VB2016 took place 5-7 October 2016 at the Hyatt Regency Denver Hotel in Denver, CO, USA.


Why you should attend a VB conference
The VB Conference is an annual event at which the brains of IT security from around the world gather to learn, debate, pass on their knowledge and move the industry forward.
The event provides three full days of learning opportunities and networking with industry experts and covers all aspects of the global threat landscape.
VB Conferences focus on the key themes:
Malware & botnets

Anti-malware tools & techniques

Mobile devices

Hacking & vulnerabilities

Spam & social networks

Network security
Whether you are an IT professional charged with defending your organization's systems and data or a vendor-based security researcher, the VB conference offers opportunities to learn from the best in the industry, discuss methods and technologies, and build contacts.
View the programme for VB2016, complete with abstracts for each paper, or download the conference brochure (PDF) here.
The VB conference offers:
Presentations by world-leading security industry experts: learn about new technologies, new research and the latest intelligence on emerging threats.
Networking: the VB conference is designed to allow delegates to make the most of every networking opportunity. Network with vendors, top industry experts and other IT security professionals - compare practices and experiences, debate and challenge ideas, and take home new information to apply in your own business environment.
Key vendors: the leading innovators in the anti-threat space will attend VB2016.
An opportunity to demonstrate your commitment to building knowledge, sharing insight and collaborating in global efforts to combat cybercrime.
See what past VB Conference delegates have to say about the event here.


State your case
Outline your business case for attending the conference - download our letter template as a guide for justifying to your budget holder why you should attend the next VB Conference.
Registration costs for VB2016 were as follows:
Early bird rate $1705.50 before 30 June 2016
After 30 June: $1895 
A discounted rate of $947.50 is available for bona fide educational institutions and charities (please contact us)
A discounted rate ($TBC) is available for students in full-time education (please contact us).
Sponsorship and exhibition
If you are interested in sponsoring a VB Conference or exhibiting at the event please contact us for more details by emailing conference@virusbulletin.com or calling us on +44 1235 544034.