Pretty Darn Fancy
TA!Fancy!PDF
27 June 2007
Description
Using a PDF file in place of an image (and especially compressed PDFs) to avoid tokenizedation.
Submitted by Joe Chongq.
Example
An example where a PDF sent in a pump-and-dump spam is made to look official (click to enlarge):


Another example, that looks more like 'classical' image spam: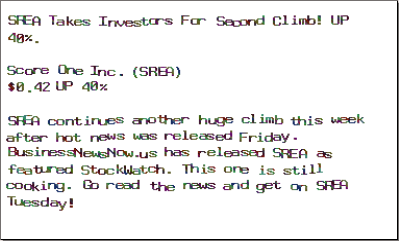 Note that the letters are actually made up of many different colours:


See also blog entries 'Pretty Darn Fancy: Stock spammers using PDF files' and 'Pretty Darn Fancy: Even More Fancy Spam'.