VB2014 paper: DNSSEC - how far have we come?
Posted by Virus Bulletin on Oct 16, 2014
Nick Sullivan describes how DNSSEC uses cryptography to add authentication and integrity to DNS responses.
Over the next months, we will be sharing conference papers as well as video recordings of the presentations. Today, we have added 'DNSSEC - how far have we come?' by CloudFlare's Nick Sullivan.
It is rather scary to think about how much of the Internet depends on DNS, and how little guarantee that protocol provides about its responses being correct. The Kaminsky attack is well mitigated these days, but cache poisoning attacks do happen and there are various other ways in which the DNS response given may not be one that can ultimately be traced to the domain owner.
In his paper, Nick explains how DNSSEC uses cryptography to add authentication and integrity (but not confidentiality) to DNS responses, thus allowing DNS clients to trust the responses they receive from recursive name servers.
But DNSSEC could bring some bad news too: in its standard form, it allows an attacker to 'walk' a DNS zone, thus revealing all domains hosted on a nameserver, while the increased response sizes mean DNSSEC could be used for DNS reflection DDoS attacks.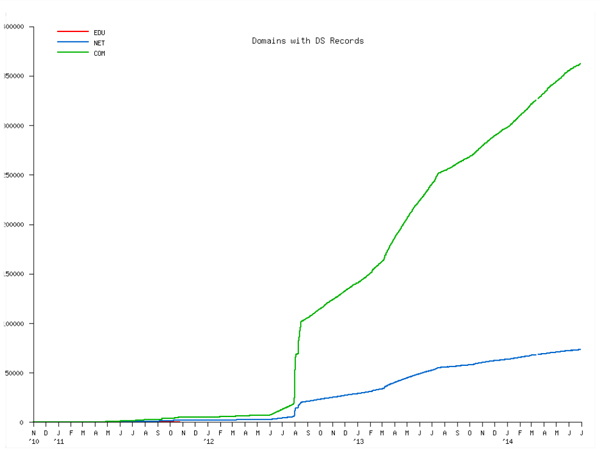 DNSSEC adopion continues at a steady rate — surpassing 350,000 .com domains in 2014 (source: Verisign).
Moreover, key management comes with all sort of practical issues. Still, DNSSEC is a good thing and the fact that adoption is increasing (even if at a slow rate) is to be lauded.
You can read Nick's paper here in HTML-format, or download it here as a PDF (no registration or subscription required). You can download the presentation slides here. We have also uploaded the presentation to our YouTube channel.
Posted on 16 October 2014 by
Martijn Grooten
Latest posts:
It is likely that, by now, everyone in computer science has at least heard of the Spectre attack, and many excellent explanations of the attack already exist. But what is the likelihood of finding Spectre being exploited on Android smartphones?
We are excited to announce several more companies that have partnered with VB2018.
A new malware campaign that uses two stolen code-signing certificates shows that such certificates continue to be popular among malware authors. But there is a positive side to malware authors' use of stolen certificates.
Though the location will remain under wraps for a few more months, we are pleased to announce the dates for VB2019, the 29th Virus Bulletin International Conference.
The operators of the Necurs botnet, best known for being one of the most prolific spam botnets of the past few years, have pushed out updates to its client, which provide some important lessons about why malware infections matter.