Paper: Invading the core: iWorm's infection vector and persistence mechanism
Posted by Virus Bulletin on Oct 30, 2014
Malware spreads through infected torrent, then maintains persistence on the system.
A month ago, security firm Dr.Web reported it had discovered a new malware variant targeting Mac OS X, that was subsequently dubbed 'iWorm'.
Apart from the fact that malware for OS X, though becoming more common, is still a bit of a novelty, most reports focused on iWorm's unique way of obtaining a list of command and control servers: the malware performed a search on Reddit for a particular string, which was used by the owners of the botnet to post C&C addresses and ports.
Today, we publish a paper by Patrick Wardle, Director of Research at Synack, in which he performs a tactical study of iWorm, focusing on both the infection vector and the way the malware maintains persistence on an infected system.
Despite its name, iWorm is a backdoor and not a worm, and thus didn't spread automatically. Patrick explains how torrents of pirated versions of Adobe Photoshop and Microsoft Office were spread - which, apart from the promised program, also installed iWorm on the side.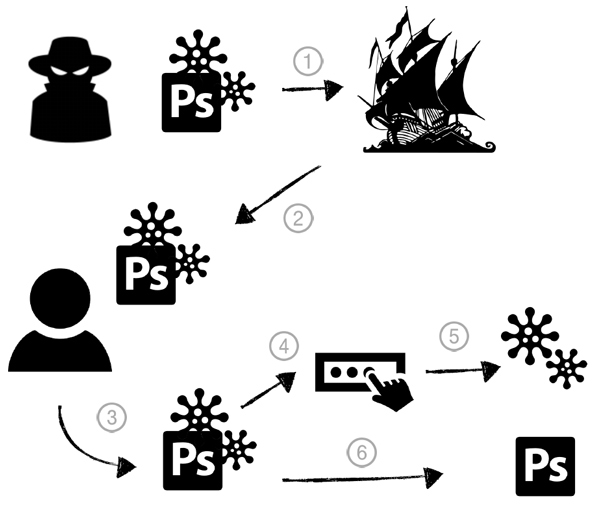 Once installed, the malware is executed automatically by the operating system every time the computer is restarted. There are many persistence methods on OS X, and iWorm uses a relatively simple method, by installing as a launch daemon.
Thankfully, removing the malware is rather trivial and requires the execution of just three simple commands.

You can read the paper here in HTML format or here as a PDF. As always, papers published by Virus Bulletin are available free of charge and do not require registration.
If you are interested in the subject of persistence methods of OS X malware, you should read Patrick's VB2014 paper on the subject "Methods of malware persistence on Mac OS X", which we published this week. In it, he describes various persistence methods and also presents the KnockKnock tool, which one can use to find programs persistently installed on OS X.

Posted on 30 October 2014 by Martijn Grooten
Latest posts:
In a new paper published today, independent researcher Nikolaos Tsapakis writes about the possibilities of malware using NTP as a covert communication channel and how to stop this.
VB is excited to reveal the details of an interesting and diverse programme for VB2019, the 29th Virus Bulletin International Conference, which takes place 2-4 October in London, UK.
Car hacking has become a hot subject in recent years, and at VB2018 in Montreal, Argus Cyber Security's Inbar Raz presented a paper that provides an introduction to the subject, looking at the complex problem, examples of car hacks, and the…
Static analysis and dynamic analysis each have their shortcomings as methods for analysing potentially malicious files. Today, we publish a VB2018 paper by Check Point researchers Yoni Moses and Yaniv Mordekhay, in which they describe a method that…
The call for papers for VB2019 closes on 17 March, and while we've already received many great submissions, we still want more!