VB2014 paper: Caphaw - the advanced persistent pluginer
Posted by Virus Bulletin on Feb 27, 2015
Micky Pun and Neo Tan analyse the banking trojan that is best known for spreading through Skype.
Since the close of the VB2014 conference in Seattle in October, we have been sharing VB2014 conference papers as well as video recordings of the presentations. Today, we have added 'Caphaw - the advanced persistent pluginer' by Fortinet researchers Micky Pun and Neo Tan.
Caphaw (also known as Shylock) is a bit of a rarity among today's botnets: its source code hasn't been leaked and the malware has never been offered for sale on underground forums, suggesting that the same group of people wrote the code and maintained the botnet.
Other than that, the banking trojan shows many similarities with other modern malware families: from anti-analysis techniques to the possibility of extending the malware by using plug-ins.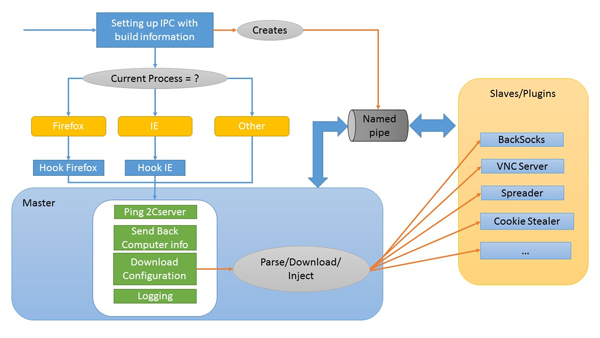 An overview of Caphaw; click for larger.
Today, we publish a VB2014 paper from Fortinet researchers Micky Pun and Neo Tan, in which they take a close look at Caphaw. They look at how the malware communicates with its command and control server and at the malware's configuration file as well as at its various plug-ins, most famous among which is one that helps the malware spread through Skype chats.
The story of Caphaw (and Micky and Neo's presentation) ends on a positive note: in June 2014 the botnet disappeared off the radar. It seems that this was thanks to a coordinated action led by the UK's National Crime Agency against the botnet's infrastructure. However, no arrests were made.
You can read Micky and Neo's paper on Caphaw here in HTML-format, or download it here as a PDF (no registration or subscription required). We have also uploaded the presentation to our YouTube channel.
Those interested in the Skype module should also read an article Micky and Neo's colleague Raul Alvarez wrote for Virus Bulletin two years ago, in which he looks at this module. Caphaw/Shylock was also studied in another VB2014 paper, by Sophos's James Wyke, who looked at decoy behaviour performed by malware upon sandbox detection.

Posted on 27 February 2015 by Martijn Grooten
Latest posts:
At VB2017 in Madrid, Polish security researcher and journalist Adam Haertlé presented a paper about a very inept persistent threat. Today, we publish both the paper and the recording of Adam's presentation.
The call for papers for VB2018 closes on 18 March, and while we've already received many great submissions, we still want more! Here are five reasons why you should submit a paper this weekend.
We are excited to announce the first six companies to partner with VB2018.
We like to pick good, solid technical talks for the VB conference programme, but good talks don't have to be technical and we welcome less technical submissions just as much.
Partnering with the VB conference links your company to a successful and well-established event, demonstrates your commitment to moving the industry forward, allows you to meet potential clients, be visible to industry peers and build lasting…