Those doing bad things deserve privacy too
Posted by Virus Bulletin on Jul 10, 2015
Hacking Team leakers should have taken a leaf out of Snowden's book.
I can understand, at least in principle, that targeted malware could be used by law enforcement agencies for legitimate purposes. After all, with proper court orders in place, it is not significantly different from the hidden cameras placed by those same agencies.
However, when a company that writes such malware is found selling it to regimes with a dubious human rights record, all potential understanding goes out of the window. That is what happened to Hacking Team last year, when researchers discovered that the company was selling its spyware to Sudan, Ethiopia and Bahrain. This was confirmed by the details revealed in the hack of the company earlier this week.
Whatever one's view of hacking companies, I do believe that this hack was conducted in the public interest. Just as the Snowden leaks meant that intelligence agencies now operate under the implicit assumption that whatever they do might one day come into the open, at the very least, companies like Hacking Team will now know that whatever shady deal they sign, one day they might be forced to publicly defend it.
Following the breach, WikiLeaks has published all of the company's internal and external emails on a website for anyone to search through. Like many others, I started to look for mentions of myself and my employer, as well as for other interesting things, of which I easily found many.
But I started to feel increasingly uncomfortable about doing this. Those working for Hacking Team are human beings too — as are those who had been in correspondence with the company, often implicitly or explicitly sharing personal details. The right of privacy applies even to very bad people — and mob rule certainly shouldn't annul it.
Through the software they sold and the governments they dealt with, Hacking Team showed very little concern for basic human rights. But that doesn't give us a right to do the same to them.
Of course, there isn't an ideal solution for a problem like this, but what Edward Snowden did with his NSA leaks — having journalists analyse the data and publish them gradually, after hiding the irrelevant bits — would have been much more appropriate.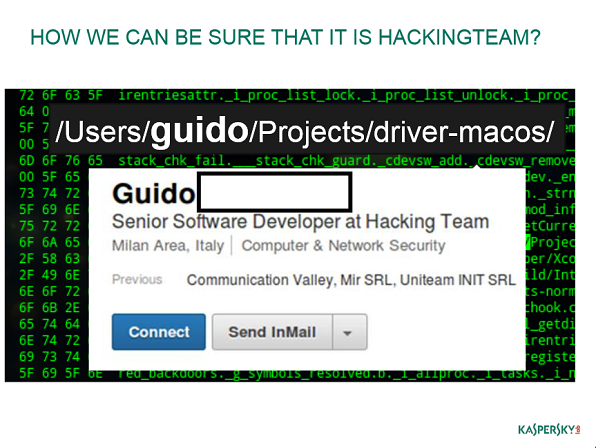 From Sergey Golovanov's VB2013 presentation.
Posted on 10 July 2015 by
Martijn Grooten