VB2015 paper: Digital 'Bian Lian' (face changing): the Skeleton Key malware
Posted by Virus Bulletin on Jan 19, 2016
Microsoft, Dell SecureWorks researchers analyse malware targeting Active Directory servers.
A year ago, researchers from Dell SecureWorks discovered a new kind of malware, dubbed 'Skeleton Key', that was used in targeted attacks.
The malware, which was installed on the target's domain controller, allowed the attacker to login as any user and thus perform any number of actions.
At VB2015, Microsoft researchers Chun Feng, Tal Be'ery and Michael Cherny, and Dell SecureWorks' Stewart McIntyre presented the paper "Digital 'Bian Lian' (face changing): the skeleton key malware". Today, we publish their paper as well as the video of their presentation.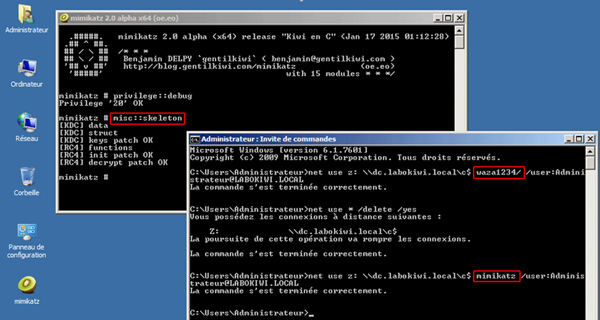 You can read the paper here in HTML-format, or download it here as a PDF, and find the video on our YouTube channel, or embedded below.
Are you interested in presenting your research at the upcoming Virus Bulletin conference (VB2016), in Denver 5-7 October 2016? The call for papers is now open.
Posted on 19 January 2016 by
Martijn Grooten
Latest posts:
Constraint programming is a lesser-known technique that is becoming increasingly popular among malware analysts. In a paper presented at VB2018 Thaís Moreira Hamasaki presented an overview of the technique and explained how it can be applied to the…
With a little less than a month before the deadline of the call for papers for VB2019, Virus Bulletin encourages submissions from experienced speakers and newcomers alike.
At VB2018 in Montreal, Ixia researcher Stefan Tanase presented a thought-provoking paper on the current state of the Internet and the worrying tendency towards raising borders and restricting the flow of information. Today we publish both his paper…
The set-up of the VBSpam test lab gives us a unique insight into the kinds of emails that are more likely to bypass email filters. This week we look at the malspam that was missed: banking and email phishing, Emotet and Bushaloader.
The cybersecurity skills gap has been described as one of the biggest challenges facing IT leaders today. At VB2018 in Montreal, ESET's Lysa Myers outlined some of the things the industry can do to help address the problem. Today we publish Lysa's…