It's fine for vulnerabilities to have names — we just need not to take them too seriously
Posted by Martijn Grooten on Apr 13, 2016
"What's in a name? That which we call Heartbleed by any other name would be just as malicious."

— William Shakespeare (paraphrased)
When OpenSSL vulnerability CVE-2014-0160 was discovered in April 2014, it was about as bad as vulnerabilities get: an attacker could read large chunks of server memory, including passwords and even private keys, merely by sending a small crafted request to a vulnerable server, of which there were millions. Today, however, the vulnerability is mostly remembered for the fact that it came with a website, a logo, and even a name: Heartbleed.

Heartbleed has been followed by many other "named bugs", a trend that has often been mocked by security experts, even when the vulnerability was named as a joke (as was the case with Shellshock) or by academic researchers with no interest in marketing (as was the case with POODLE and DROWN).

As someone who regularly writes about security, I actually like the tendency to name vulnerabilities, as it makes them far more recognizable than generic IDs like CVE-2016-1234. Logos also help illustrate such articles and are easily recognizable when a vulnerability is discussed in a conference presentation.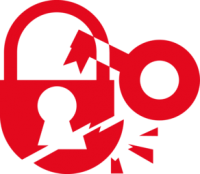 Three weeks ago, a new vulnerability was reported: Badlock. It too came with a name (Badlock), website and logo — and was announced three weeks prior to being patched (in yesterday's Patch Tuesday). While raising awareness is good, and advance notifications can be helpful, many thought this was a little over the top. After all, there are already good reasons to apply Microsoft's patches quickly: many of the vulnerabilities are soon exploited in the wild.

When yesterday it turned out that the vulnerability wasn't as serious as had originally been suggested, a sense of Schadenfreude was felt among the Twitterati. That's what you get for hyping vulnerabilities and naming them, seemed to be the consensus.

It turns out that the marketing department of the company that discovered the vulnerability (for which it deserves credit), saw this a bit too eagerly as a marketing opportunity — which has now backfired.
But maybe we should not have taken the marketing campaign so seriously in the first place. Security professionals should be able to look beyond marketing and look for technical details or advice from trusted experts. Both of these were lacking in this case.
Those who hyped Badlock look a bit red-faced now, and deservedly so, even if the vulnerability certainly isn't to be ignored. But had it been something really serious, the name would have come in pretty handy.
Latest posts:
The 68-byte EICAR test file plays as important a role today as it did 19 years ago. In this week's Throwback Thursday we look back at a VB99 conference paper in which Randy Abrams described how this 'miracle tool' worked and how it could be used.
A new piece of cryptocurrency-mining malware on macOS has been found to use the popular XMRig miner.
CDN provider Cloudflare reports an increase in DDoS attacks targeting layer 7 and focusing on exhausting server resources rather than sending large volumes of data. This fits in a wider trend.
Through fake social media accounts, users were tricked into installing an Android application that was actually a mobile version of the FinFisher spyware.
The Hide'n'Seek IoT botnet has received an update to make its infection persist on infected devices beyond a restart.