VB2016: Important Information About the Hotel
Posted by Martijn Grooten on Sep 6, 2016
We are delighted that many people have already registered for VB2016, and registration for VB2016 will remain open right up until the start of the conference. However, the large number of registrations does mean that, for the moment, the conference hotel is fully booked for accommodation (sold out) on Friday 7 October.
Of course, the conference finishes on Friday afternoon, and if you are planning to leave Denver on Friday, there's no need to worry, there are still rooms available for the previous nights – although you would be well advised to book sooner rather than later, if only because the conference rate of $219/night (excluding taxes) cannot be guaranteed after 12 September 2016.
However, many people will want to stay a little longer, whether to hang out with friends and colleagues, to visit Denver, or maybe because they want to attend BSides Denver, which takes place on Saturday.
If you wish to stay in Denver on the Friday night, there are two options:
You can indicate that you would like to be put on a wait list at the Hyatt Regency: please visit the hotel booking site, make your reservation for departure 10/7/16 and add "STAY" in the reservations request field.
Alternatively, you may wish to make a reservation at a different hotel. The following is a list of hotels in the local area (please note that these are not recommendations as the VB team have not visited any of these venues and thus cannot pass comment on their suitability):
We will shortly be announcing the final additions to the conference programme - nine last-minute papers and two keynote addresses, so watch this space! 
We look forward to seeing you at VB2016.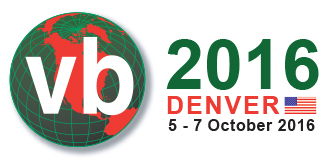 Latest posts:
The Lazarus Group, generally linked to the North Korean government, is one of the most notorious threat groups seen in recent years. At VB2018 ESET researchers Peter Kálnai and Michal Poslušný presented a paper looking at the group's various…
Virus Bulletin is proud to sponsor this year's BSides London conference, which will take place next week, and we have a number of tickets to give away.
We are excited to announce the first 11 companies to partner with VB2019, whose support will help ensure a great event.
A former reporter by profession, Andrew Brandt's curiosity was piqued when he came across what appeared at first glance to be the website of a small-town newspaper based in Illinois, but under scrutiny, things didn't add up. At VB2018 he presented a…
In a new paper published today, independent researcher Nikolaos Tsapakis writes about the possibilities of malware using NTP as a covert communication channel and how to stop this.