The threat and security product landscape in 2017
Posted by Martijn Grooten on Jan 10, 2018
Like many security firms, Virus Bulletin takes the opportunity of the start of the new year to look back at the threats seen over the last 12 months.
In a report we publish today, we focus on 'opportunistic' attacks: the large-scale attacks that don't focus on a particular target and that often aren't particularly advanced, but which nevertheless are often very successful – and very costly for their victims.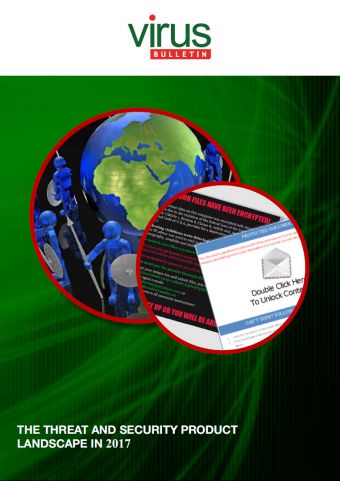 However, we believe that such attacks should always be understood in the context of a world in which there are many security solutions that mitigate the threat. A typical malicious spam campaign, for example, will involve many millions of malicious emails being sent, but only a very small percentage of those will make it to someone's inbox, and an even smaller percentage will result in the malware successfully being executed on an endpoint device.
For sure, it's a scary digital world out there, but we are a lot better at preventing damage than we often give ourselves credit for. It is for this reason that the report also looks at how various kinds of security products stop malware attacks in their tracks, and the report concludes with summaries of the results of all the VB security product tests that were run in 2017 as well as an alphabetical list of participating vendors and the VB certifications they achieved in 2017.
You can read the report in PDF or HTML format.
Here's to a great and secure 2018 – we hope to see you at VB2018 in Montreal!
Latest posts:
A Necurs pump-and-dump spam campaign pushing the lesser known Swisscoin botnet is mostly background noise for the Internet.
A 28-year old man from Ohio has been arrested on suspicion of having created the mysterious FruitFly malware that targeted macOS and used it to spy on its victims.
At the start of the new year, Virus Bulletin looks back at the threats seen in the 2017 and at the security products that are available to help mitigate them.
Spamhaus's annual report on botnet activity shows that botherders tend to use popular, legitimate hosting providers, domain registrars and top-level domains when setting up command-and-control servers.
As tech support scammers continue to target the computer illiterate through cold calling, VB's Martijn Grooten uses his own experience to share some advice on how to investigate such scams.