The threat and security product landscape in 2017
Posted by Martijn Grooten on Jan 10, 2018
Like many security firms, Virus Bulletin takes the opportunity of the start of the new year to look back at the threats seen over the last 12 months.
In a report we publish today, we focus on 'opportunistic' attacks: the large-scale attacks that don't focus on a particular target and that often aren't particularly advanced, but which nevertheless are often very successful – and very costly for their victims.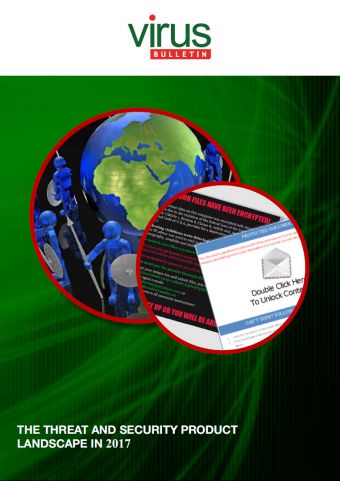 However, we believe that such attacks should always be understood in the context of a world in which there are many security solutions that mitigate the threat. A typical malicious spam campaign, for example, will involve many millions of malicious emails being sent, but only a very small percentage of those will make it to someone's inbox, and an even smaller percentage will result in the malware successfully being executed on an endpoint device.
For sure, it's a scary digital world out there, but we are a lot better at preventing damage than we often give ourselves credit for. It is for this reason that the report also looks at how various kinds of security products stop malware attacks in their tracks, and the report concludes with summaries of the results of all the VB security product tests that were run in 2017 as well as an alphabetical list of participating vendors and the VB certifications they achieved in 2017.
You can read the report in PDF or HTML format.
Here's to a great and secure 2018 – we hope to see you at VB2018 in Montreal!
Latest posts:
The 68-byte EICAR test file plays as important a role today as it did 19 years ago. In this week's Throwback Thursday we look back at a VB99 conference paper in which Randy Abrams described how this 'miracle tool' worked and how it could be used.
A new piece of cryptocurrency-mining malware on macOS has been found to use the popular XMRig miner.
CDN provider Cloudflare reports an increase in DDoS attacks targeting layer 7 and focusing on exhausting server resources rather than sending large volumes of data. This fits in a wider trend.
Through fake social media accounts, users were tricked into installing an Android application that was actually a mobile version of the FinFisher spyware.
The Hide'n'Seek IoT botnet has received an update to make its infection persist on infected devices beyond a restart.