VB2018 Montreal
VB2018 will be held 3-5 October 2018 at the Fairmont The Queen Elizabeth hotel in Montreal, Quebec, Canada.
For any queries please contact conference@virusbulletin.com.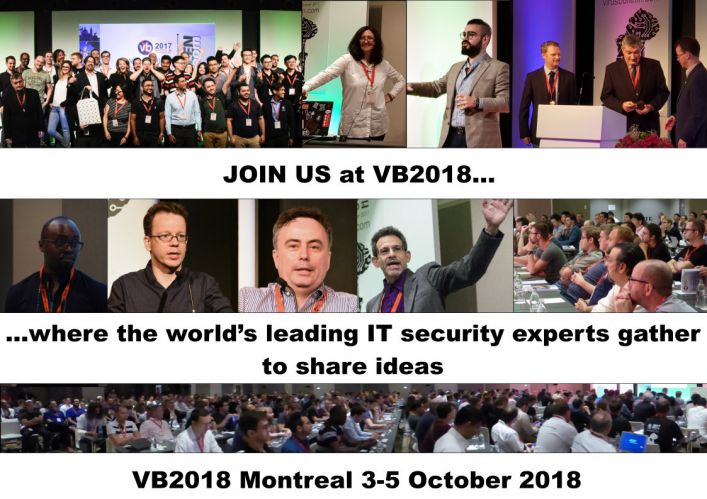 ---
VB Conference: Shaping tomorrow's IT security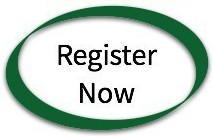 In its 28th year, the annual Virus Bulletin International Conference (VB2018) will once again be one of the cybersecurity events of the year.
From 3-5 October 2018, the world's leading IT security experts – from academia and vendors to non-profits and mega corporations – will gather to share their expertise, ideas, research and predictions.
VB2018 will offer three full days of cutting-edge presentations, debates and discussion that cover all aspects of the global threat landscape.
VB2018 papers and programme
The VB2018 programme features top-class researchers and security industry experts from around the world. Check out the VB2018 speakers and the full programme.
Meanwhile, just some of the many highlights include:
---
NEW:

Threat Intelligence Summit (TIS)

Throughout its history, Virus Bulletin has been actively involved in threat intelligence, not only as a provider but even more so as a facilitator – the VB Conference has long been one of the prime places where security experts gather to exchange data and to build those connections that are essential for intelligence sharing.

Thus we are very excited to announce a special summit, part of VB2018, that is dedicated to threat intelligence. The "Threat Intelligence Summit" ("TIS") will take place on Friday 5 October – we will announce the programme for the Summit soon, but can already let you know that it will feature a good mix of experts dealing with various aspects of threat intelligence.

The TIS will be incorporated as part of the three-day VB conference, though as places for the Summit will be limited, we will ask those wishing to attend to register their intent during the VB Conference ticket-buying process. (More details of how to do this will be announced at the time of publishing the TIS programme.)
---
Partnership opportunities
Want to show that your organization cares about the future and health of the IT security industry, demonstrate your commitment to moving it forward, while at the same time reaching out to experts and corporate decision makers?
You can achieve all of this by partnering with the Virus Bulletin (VB) Conference, whose core values are education, collaboration and exchange of ideas, and which has over nearly three decades become the premier and longest-serving technical event in the security industry.
There are still some opportunities for your company to partner with VB2018. For details contact Allison Sketchley by email or telephone +44 1235 544034.
---
Venue: VB2018 in Montreal
The 2018 Virus Bulletin conference will be held at the newly refurbished Fairmont The Queen Elizabeth hotel in Montreal, Quebec, Canada.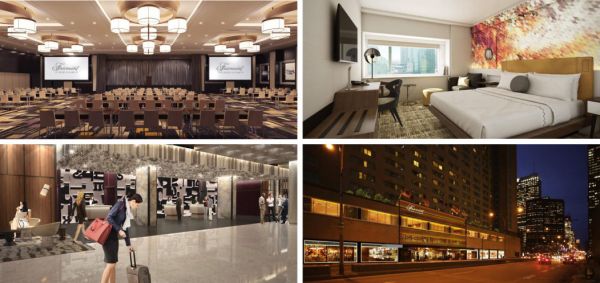 Source: http://www.fairmont.com/queen-elizabeth-montreal/media/photos/


Book your hotel room
If you wish to stay at the venue hotel, we suggest that you make your reservation as soon as possible.
Bookings can be made at the VB2018 delegate rate of CAD289/night* (+taxes) via this link: Book Hotel for VB2018
(*Please note that the VB2018 accommodation rate at the Fairmont The Queen Elizabeth cannot be guaranteed after 7 September 2018.)
Problems making a hotel booking?
Contact Allison at Virus Bulletin for assistance.