VB2018 call for papers now open!
Posted by Martijn Grooten on Jan 23, 2018
The call for papers for VB2018, the 28th Virus Bulletin International Conference, which will take place in Montreal, Canada, 3-5 October 2018, is now open!
We welcome submissions on all aspects of digital security, from the very technical to the more general, whether you are an experienced speaker or a first-time presenter, and whether you are based in Montreal or the other side of the world.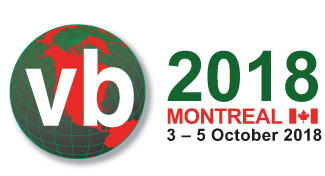 The VB Conference has a broad focus, but has always concentrated on analysing and preventing real-world attacks: from malware analyses to APT campaign investigations; from tools that help with research to new detection methods; from attacks against the BIOS to research into global infection rates. We also very much welcome 'out-of-the-box' submissions.
We are particularly interested in hearing from speakers who can share their experience from the real world, who are employed by businesses, governments or NGOs and tasked with securing systems and fending off attacks.
The deadline for submissions is 18 March 2018.
You can read more on the CFP here, or go directly to our Extranet, where you can submit papers.
A small number of slots on the conference programme will be reserved for very 'hot' research topics; the call for these 'last-minute' papers will go out in the summer. Registration for the conference will open in April 2018.
Should you have any queries about the call for papers, if you have an idea that doesn't fit the standard format, or just want to talk over your proposal prior to submitting, please don't hesitate to email me at martijn.grooten@virusbulletin.com.
We look forward to hearing from you!

Latest posts:
Static analysis and dynamic analysis each have their shortcomings as methods for analysing potentially malicious files. Today, we publish a VB2018 paper by Check Point researchers Yoni Moses and Yaniv Mordekhay, in which they describe a method that…
The call for papers for VB2019 closes on 17 March, and while we've already received many great submissions, we still want more!
Registration for VB2019, the 29th Virus Bulletin International Conference, is now open, with an early bird rate available until 1 July.
When we are calling for papers for the Virus Bulletin conference as we are doing now, we really mean a written paper. But don't worry if you've never written a paper - we can help!
Amit Serper first analysed the OSX/Pirrit adware in 2016, highlighting some of its malware-like techniques, and soon afterwards started receiving legal threats from the company behind it. At VB2018 Amit gave a presentation in which he discussed both…