VB2018: last-minute talks announced
Posted by Martijn Grooten on Sep 10, 2018
With a little over three weeks to go until the start of VB2018, 28th Virus Bulletin Conference, we are excited to announce ten last-minute talks that cover hot research.
Nation-state & cyber espionage attacks
Nation-state attacks and cyber espionage continue to be hot topics in cybersecurity, and this is reflected in several last-minute papers.
Intezer Labs researchers Jay Rosenberg and Itai Tevet will look at the threats coming out of North Korea and in particular at links between the various threat groups. Meanwhile, Kaspersky Lab researchers Kurt Baumgartner and Mike Scott will present their latest research on Turla, one of the most advanced groups around (and something that Kurt spoke about three years ago).
APT-C-23 is a threat group active in the Middle East, which has become a hotbed of cyber activity in recent years. Researcher Aseel Kayal will present details of Check Point's investigation into this group. Meanwhile, 'Nomadic Octopus' is a cyber espionage group operating in a different region: Central Asia. ESET researcher Anton Cherepanov, a regular VB speaker, will present details of this group.
'Ordinary' cybercrime & commercial spyware
'Ordinary' cybercrime groups can be very advanced too. A good example is the group behind the SamSam ransomware, notorious for its more targeted focus and far higher than usual ransom demands. Sophos researchers Andrew Brandt and Peter Mackenzie will present their investigation into this ransomware and the group behind it.
Those interested in commercial spyware sold to governments should definitely attend the talk by CSIS researchers Benoît Ancel and Aleksejs Kuprins, who look at a company that resells commercial spyware as government spyware.
DNS requests, Necurs & VBS
Cisco Umbrella's Brad Antoniewicz will look at an often overlooked way to exfiltrate data from compromised systems: DNS requests. Meanwhile, Avast's Jan Sirmer and Adolf Streda will talk about how a branch of the Necurs botnet was used to spread another botnet, and Blueliv's Jose Miguel Esparza will look at malware written in VBS and how it recently targeted Canadian banks.
Triada
Finally, Google's Lukasz Siewierski will discuss Triada, malware that was found preinstalled on Android devices, and how Google worked with OEMs to fight this threat.
Invited talks
In addition to these ten last-minute papers, we have also added two more invited talks to the VB2018 programme. Nopsec's Adrian Sanabria, who two years ago discussed the state of endpoint security, will present an update on this fast-changing market.
And Michael Daniel, who worked as Cybersecurity Coordinator on the National Security Council Staff under president Obama, and now serves as President & CEO of the Cyber Threat Alliance (CTA), will explain why sharing threat intelligence actually makes you more competitive.
Registration for the conference is still open, so book now to make sure you don't miss out on these exciting talks!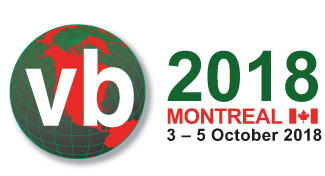 Latest posts:
The Lazarus Group, generally linked to the North Korean government, is one of the most notorious threat groups seen in recent years. At VB2018 ESET researchers Peter Kálnai and Michal Poslušný presented a paper looking at the group's various…
Virus Bulletin is proud to sponsor this year's BSides London conference, which will take place next week, and we have a number of tickets to give away.
We are excited to announce the first 11 companies to partner with VB2019, whose support will help ensure a great event.
A former reporter by profession, Andrew Brandt's curiosity was piqued when he came across what appeared at first glance to be the website of a small-town newspaper based in Illinois, but under scrutiny, things didn't add up. At VB2018 he presented a…
In a new paper published today, independent researcher Nikolaos Tsapakis writes about the possibilities of malware using NTP as a covert communication channel and how to stop this.