VB2018 preview: IoT botnets
Posted by Martijn Grooten on Sep 17, 2018
For a long time IoT-botnets were just one of those things security professionals warned about. Then, with the appearance of Mirai in 2016, they became a reality.
Mirai's success in performing DDoS attacks, combined with the leak of the botnet's source code, has led to a great many descendants, some of which stay closer to the original than others.
At VB2018, Ya Liu and Hui Wang, researchers from Qihoo 360 Technology in China, will present a paper in which they look at how to extract various data from Mirai samples and how this can then be used to classify and track variants of the botnet.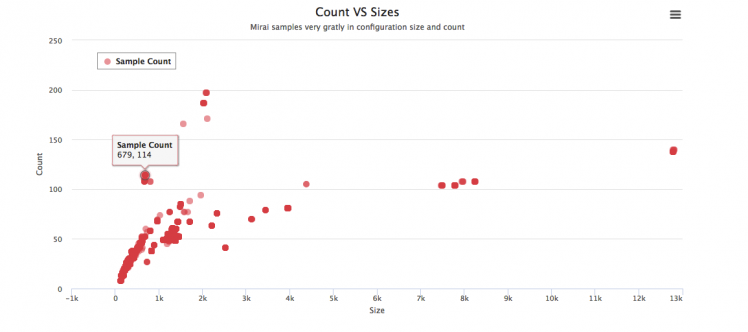 Clustering samples based on configuration count and size.
But Mirai descendants aren't the only IoT-botnets around. Earlier this year, researchers from Bitdefender in Romania discovered Hide'n'Seek, an IoT botnet noteworthy for its peer-to-peer architecture. The lack of a central command-and-control server makes such botnets harder to take over or shut down.
At VB2018, Bitdefender researchers Adrian Şendroiu and Vladimir Diaconescu will present a paper in which they perform a technical analysis of the botnet, including updates since its first discovery in January, such as added persistence.
VB2018 takes place in Montreal, 3-5 October. Places are still available, so to make sure you don't miss these important talks, as well as more than 50 others by security experts from around the globe, book your ticket now!
Latest posts:
At VB2019, JPCERT/CC's Shusei Tomonaga and Tomoaki Tani presented a paper on attacks that exploit vulnerabilities in software used only in Japan, using malware that is unique to Japan. Today we publish both their paper and the recording of their…
In a follow-up to a paper presented at VB2019, Prismo Systems researchers Abhishek Singh and Ramesh Mani detail algorithms that can be used to detect SQL injection in stored procedures, persistent cross-site scripting (XSS), and server‑side request…
VB is pleased to reveal the details of an interesting and diverse programme for VB2020, the 30th Virus Bulletin International Conference.
At VB2019 in London, Jamf's Patrick Wardle analysed the WindTail macOS malware used by the WindShift APT group, active in the Middle East. Today we publish both Patrick's paper and the recording of his presentation.
At VB2019 cybercrime journalist and researcher Adam Haertlé presented an analysis of almost 2000 unsolicited responses sent by victims of a malicious email campaign. Today we publish both his paper and the recording of his presentation.