VB2018 paper: Now you see it, now you don't: wipers in the wild
Posted by on Nov 1, 2018
Early computer viruses were often destructive in nature, but once criminals learned about the money they could make from malware, they realised that destructiveness hurt their goals. Destructive malware, however, has made a comeback in recent years, most importantly in nation-sponsored attacks.
Some of these malware variants literally wipe all data off disks (hence the name 'wiper'), while others merely encrypt the data in a way that doesn't allow for recovery, often masquerading as ransomware: the notorious 2017 attacks of WannaCry and NotPetya are examples of the latter.
In a paper presented at VB2018 in Montreal last month, BAE Systems researcher Saher Naumaan looked at the various kinds of malware that contain a wiper variant, including their goals, propagation methods, and how the wiper functionality worked.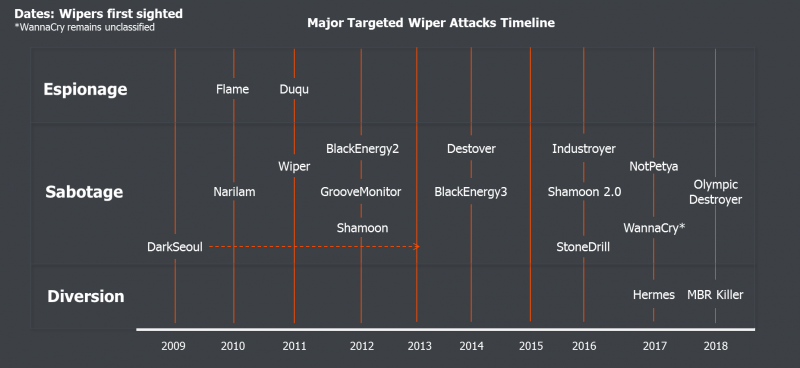 Major targeted attacks employing wipers and classifications.
We have now published Saher's paper in both HTML and PDF format. We have also uploaded the video of her presentation to our YouTube channel.
Latest posts:
In a new paper, F5 researchers Aditya K Sood and Rohit Chaturvedi present a 360 analysis of Collector-stealer, a Russian-origin credential and information extractor.
VB has made all VB2021 localhost presentations available on the VB YouTube channel, so you can now watch - and share - any part of the conference freely and without registration.
VB2021 localhost - VB's second virtual conference - took place last week, but you can still watch all the presentations.
The call for last-minute papers for VB2021 localhost is now open. Submit before 20 August to have your paper considered for one of the slots reserved for 'hot' research!
Kurt Natvig explains how he recompiled malicious VBA macro code to valid harmless Python 3.x code.