VB2018 paper: Now you see it, now you don't: wipers in the wild
Posted by on Nov 1, 2018
Early computer viruses were often destructive in nature, but once criminals learned about the money they could make from malware, they realised that destructiveness hurt their goals. Destructive malware, however, has made a comeback in recent years, most importantly in nation-sponsored attacks.
Some of these malware variants literally wipe all data off disks (hence the name 'wiper'), while others merely encrypt the data in a way that doesn't allow for recovery, often masquerading as ransomware: the notorious 2017 attacks of WannaCry and NotPetya are examples of the latter.
In a paper presented at VB2018 in Montreal last month, BAE Systems researcher Saher Naumaan looked at the various kinds of malware that contain a wiper variant, including their goals, propagation methods, and how the wiper functionality worked.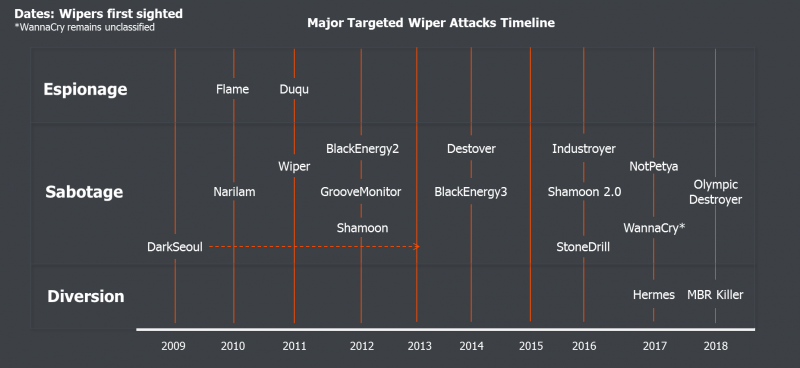 Major targeted attacks employing wipers and classifications.
We have now published Saher's paper in both HTML and PDF format. We have also uploaded the video of her presentation to our YouTube channel.
Latest posts:
Last week, VB Editor Martijn Grooten travelled to the Kenyan capital Nairobi to speak at the 6th edition of the AfricaHackon event.
Still in-development kit thus far only targets Flash Player vulnerabilities
The call for last-minute papers for VB2019 is now open. Submit before 1 September to have your abstract considered for one of the nine slots reserved for 'hot' research.
Virus Bulletin is seeking nominations for the sixth annual Péter Szőr Award.
New additions to the VB2019 conference programme include a closing keynote address from Thinkst duo Haroon Meer and Adrian Sanabria and a talk on attacks against payment systems.