VB2018 video: Foreverdays: tracking and mitigating threats targeting civil society orgs
Posted by Martijn Grooten on Nov 28, 2018
Israel's NSO Group is in hot water following a Haaretz report that revealed that the company negotiated with the Saudi government on the sale of its spyware, leading the local branch of Amnesty International to call for the firm's export licence to be revoked.
The list of targets of the group's Pegasus spyware makes for some uncomfortable reading: it includes an Emirati lawyer, currently serving a ten-year prison sentence over tweets he sent, an acquaintance of the murdered Saudi journalist Jamal Khashoggi and, as reported yesterday, colleagues of a murdered Mexican journalist.
All of these cases were first reported by Toronto's Citizen Lab. Based at the University of Toronto, the Citizen Lab is known for its work on the digital threats facing civil society – a subject on which two of the Lab's researchers, Masashi Nishihata and John Scott Railton, delivered a presentation at VB2018 in Montreal.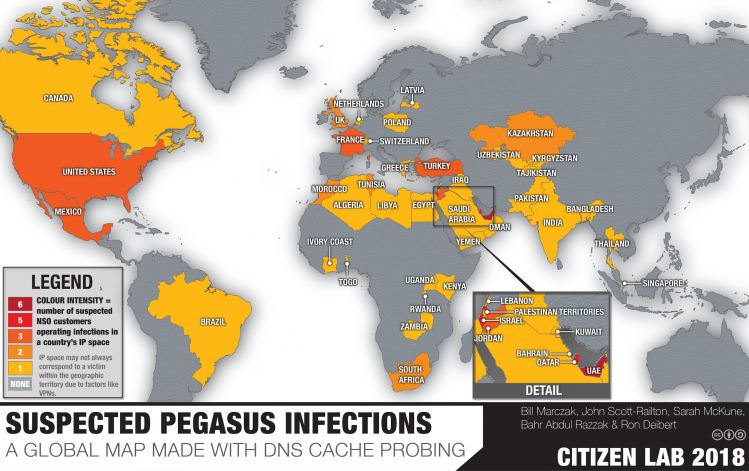 Global distribution of Pegasus spyware; from a September 2018 Citizen Lab report.
However, while Masashi and John did begin their talk by discussing the Pegasus spyware and how it had targeted Canadian permanent resident and Saudi dissident Omar Abdulaziz (a friend of Jamal Khashoggi whose death, a day previously, wasn't known about at the time of the presentation), their main argument was that such attacks using zero-days are actually the exception. Aptly titled 'foreverdays', their talk made the important point that malware targeting civil society tends to be "preventable, curable and technically boring" – the digital equivalent of tuberculosis rather than ebola.
Today we have uploaded the video of Masashi and John's presentation to our YouTube channel. They conclude their presentation by calling on the security industry to give civil society targets extra attention when they are found.
Latest posts:
VB calls on organisations and individuals involved in threat intelligence from around the world to participate in next year's Virus Bulletin conference.
Today, we publish the VB2018 paper by Qihoo 360 researchers Ya Liu and Hui Wang, on extracting data from variants of the Mirai botnet to classify and track variants.
2018 has seen an increase in the variety of botnets living on the Internet of Things - such as Hide'N'Seek, which is notable for its use of peer-to-peer for command-and-control communication. Today, we publish the VB2018 paper by Bitdefender…
In a new paper, Avast researchers Jan Sirmer and Adolf Streda look at how a spam campaign sent via the Necurs botnet was delivering the Flawed Ammyy RAT. As well as publishing the paper, we have also released the video of the reseachers' VB2018…
Today we have published the video of the VB2018 presentation by Andrew Brandt (Sophos) on the SamSam ransomware, which became hot news following the indictment of its two suspected authors yesterday.