VB2019 conference programme announced
Posted by Martijn Grooten on Apr 5, 2019
We are excited to announce the programme for VB2019, the 29th International Virus Bulletin Conference which will take place 2-4 October in London, UK.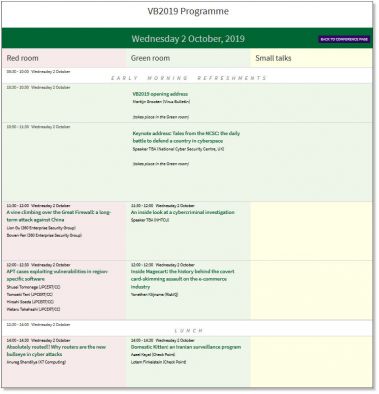 The conference programme features a mix of analyses of the threats that companies and organisations, nations and individuals are facing; of the tools and technologies used to analyse those threats; and discussions of the issues affecting the security industry as a whole.
The opening keynote address will be delivered by a senior representative of the UK's National Cyber Security Centre. The NCSC is well respected among security practitioners for its clear, no-nonsense advice – the organisation's unique perspective on the digital attacks facing the United Kingdom will well be worth hearing.
The conference programme also includes talks on nation-state actor groups such as APT10, Machete, DNSpionage and Domestic Kitten, as well as prominent entities within cybercrime like Emotet, GandCrab, Ryuk and the Magecart groups. Those interested in the fight against cybercrime should definitely attend the talk by the National High Tech Crime Unit of the Dutch National Police, which will present an insight into an ongoing and as yet unpublished investigation.
As always, the conference programme includes plenty of papers on research tools and methods, in which researchers will share their work to help the industry progress further. Talks also cover important subjects such as medical IoT devices and threats against the maritime sector, while there are also talks on the mental health issues facing those working in security, and on child sexual abuse material.
View the full programme here.
Registration for the conference is now open and partnership options are still available. Additions to the programme will be made over the coming weeks and months, while a call for last-minute papers will go out in summer. The conference will also include a Threat Intelligence Practitioners' Summit, details of which will be revealed in due course.
We're still not sure whether the conference will take place inside or outside the European Union, but there is no reason not to book a ticket. We look forward so seeing you in London in October!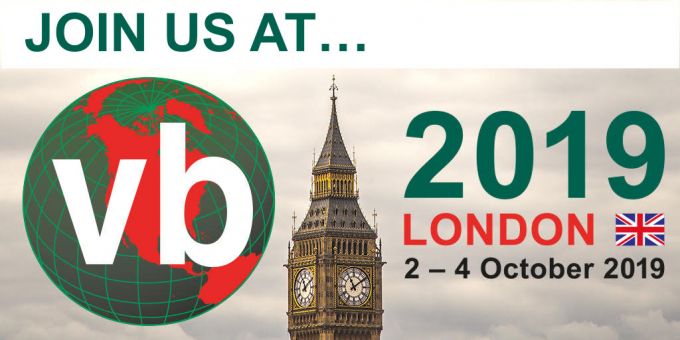 Latest posts:
VB is excited to reveal the details of an interesting and diverse programme for VB2019, the 29th Virus Bulletin International Conference, which takes place 2-4 October in London, UK.
Car hacking has become a hot subject in recent years, and at VB2018 in Montreal, Argus Cyber Security's Inbar Raz presented a paper that provides an introduction to the subject, looking at the complex problem, examples of car hacks, and the…
Static analysis and dynamic analysis each have their shortcomings as methods for analysing potentially malicious files. Today, we publish a VB2018 paper by Check Point researchers Yoni Moses and Yaniv Mordekhay, in which they describe a method that…
The call for papers for VB2019 closes on 17 March, and while we've already received many great submissions, we still want more!
Registration for VB2019, the 29th Virus Bulletin International Conference, is now open, with an early bird rate available until 1 July.