VB2015 Foosball Tournament (hosted by G Data)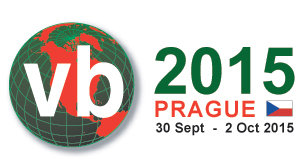 G Data ran its annual foosball (table football) tournament at the Virus Bulletin Conference in Prague (VB2015).

About the tournament
Games, which were played during the breaks between the conference sessions and after the sessions, were played between teams representing different companies or organizations, with the country in which the respective companies are headquartered dictating the nationality of the team.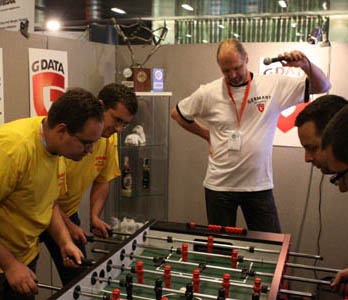 The tournament was run in two phases: a group phase and a knock-out phase. In the group phase, groups of teams were selected at random, with each team playing against the other teams in their group. The winners of each group played the quarter finals. The winners of the quarter finals played the semi-finals and the winners of the semi-finals played in the final.
The tournament followed two simple maxims: 'fair play' and 'have fun'.
Participating teams
The following teams took part
Avast (Czech Republic)

AV-Comparatives (Austria)

ESET (Slovakia)

G Data (Germany)

Hewlett Packard (USA)

IBM Trusteer (Israel)

IKARUS (Austria)

National center of Incident readiness and Strategy for Cybersecurity (NISC) (Japan)

VMRay (Germany)

Virus Bulletin (UK)
Final result
G Data (Germany)

Avast (Czech Republic)